Milan 2019: Seamless Technology At Home
Thursday, 25 July 2019
The strength of minimalism has become an important decorative and psychological consideration in the home. A focus on technological movements at this years 2019 Milan Salone Del Mobile examined how technology that plays an important role in our everyday lives can be tied seamlessly into our interiors.
Dedicated to pioneering design, this notion has sparked experimental collaborations between furniture designers and technological brands with the intention of producing astute products for the home that carefully balance our merging electronic and aesthetic needs.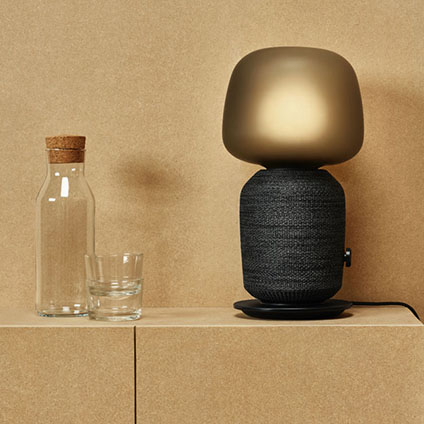 .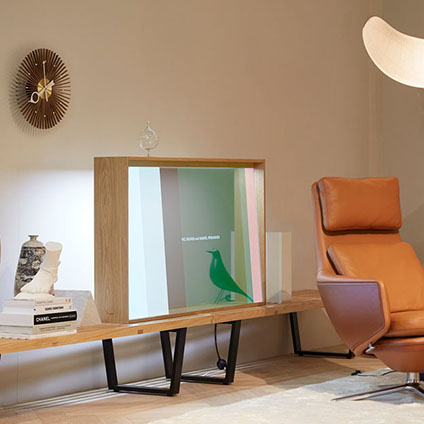 As pictured above: The SYMFONISK collection by Ikea and Sonas and the Vitrine by Vitra and Panasonic
Taking into consideration that light and sound are powerful mood boosters, IKEA and Sonas have successfully realised the potential of their combined expertise with the SYMFONISK collection. Defining minimalist design, the table lamp and bookshelf with integrated sound speakers aims to reduce 'gadget overload', while allowing these two furniture and sound specialists to explore what they describe as 'products neither of us would or could develop independently'.
This collective goal to 'save space, get rids of cords and bring sound and music into the home in a more beautiful way' was a concept also explored by Vitra and Panasonic. Delivering a careful balance between art and design, the Vitrine television is a minimalist prototype composed of a simple wood frame and a subtly slated pane of glass. Naturally blending an everyday electronic into a modern living space, only once switched on does the does the Vitrine OLED screen become apparent.
Though not yet available commercially, the Vitrine offers exciting insight into the future of design. Omitting the familiar and often obtrusive traditional television form it proposes a contemporary, unified home that escapes the often aesthetically complex and overwhelming sensations that fast-paced technological development delivers.
Read next
Foscarini - Shedding Light on Italian Design and Milan 2019 - The Importance of Design