Make an Entrance
Tuesday, 18 September 2018
Throughout the 17th and 18th century, the console table was considered a must-have item among the elite. Disregarding functionality, this luxurious feature piece was designed instead to be admired with intricate carvings and theatrical designs.
Preserving these decorative characteristics, everyday consoles have been transformed into both beautiful and practical features in the modern home. Typically occupying void spaces in hallways, an array of shapes, sizes and styles can be found to accommodate your space and needs.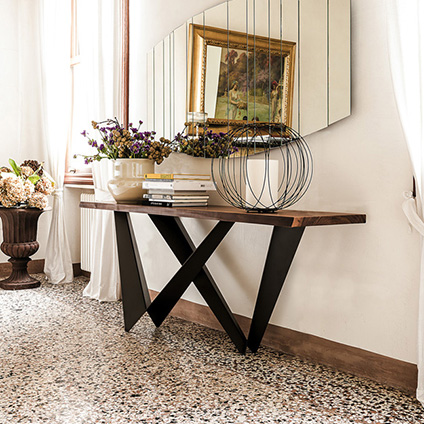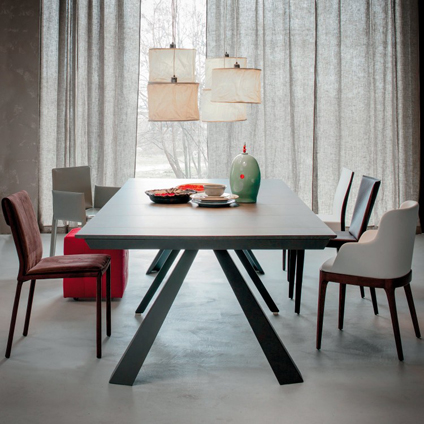 As pictured above from left to right: The Cattelan Italia Westin console table and Cattelan Italia Convivium table
Instantly amplifying an entranceway, the Blush Console by Porada features a luxurious marble finish and a slim frame with discreet drawers that serve as storage for essential items, including keys and letters. Visually harmonise the area and create a preliminary place to refresh before leaving the house by hanging a stylish oversized mirror above.
Celebrate the consoles theatrical roots, by making it a theme throughout your home. Bontempi has introduced console variations of its most popular designs. Take the Artistico collection - its signature curved feature base can occupy multiple spaces in a coffee table, dining table and console form.
Alternatively, explore extendable consoles for smaller spaces. The Cattelan Italia Convivium merges a beautiful base with a multifunctional extending top. Complete the look by introducing footstools and feature chairs to create an impromptu desk or a sizable dining table when required.
Read next
Inspiration: Top 5 Striking Bases and Flavour For Your Home