Versatility is on the menu
Friday, 27 March 2015
Versatility is on the menu...
The dining table is often considered the heart of the house, a place not solely for dining but where we often find ourselves together and relaxed for the first time in the day. At Lime Modern Living we understand how important it is to get the perfect dining table for your space and needs, from small and intimate to family dining and luxurious entertaining.
Italian designers Porada know the importance of combining style with versatility and with a wide choice of finishes and sizes in their range you can find a table to suit every need. The clean and minimalist lines of the Porada Kevin table are simple yet stylishly classic. This highly versatile, all wood table comes in three extending sizes, three square sizes and (wait for it…….) twenty one different set sizes! The Kevin also comes in a wide choice of finishes including Canaletto Walnut, Ash, Open Pore Lacquers and Closed Pore Lacquers giving the table a chameleon like quality where you can create the perfect table for your space and colour scheme. If a statement piece is what you are looking for, the Infinity table, with the sweeping curves of its dramatic base, is a proclamation of Italian contemporary design.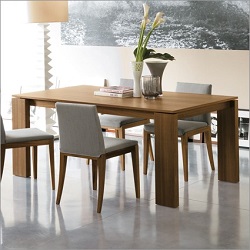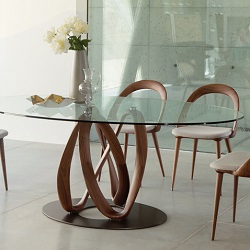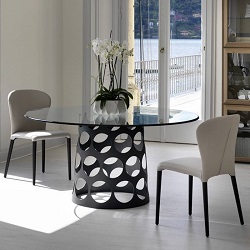 The Porada Infinity table comes in a wide choice of sizes with four circular, three elliptical and three oval, with a single base and two oval, two elliptical and two rectangular with two of the stunning bases. The base is available in a wide choice of finishes including Ash, Canaletto Walnut, Closed Pore Lacquers and Open Pore Lacquers with the top either in Glass or Wood in the same wide choice as the base to match, compliment or contrast. The metal ring the base stands on even comes in a choice of finishes, making this a highly versatile statement piece. The Jean table is a modern contemporary opus of clean lines and sleek curves, with its iconic metal base. The top is available in Glass, a choice of Marbles or a choice of Woods with each finish bringing different aspects into the style but without disrupting the underlying design. The base comes in Black, White, Pewter Grey or Bronze and the Jean is available in seven different sizes, giving amazing versatility to contemporary chic.
Based in Tunbridge Wells, Lime Modern Living prides itself on a contemporary collection that includes the very best in design and innovation to transform the home into a fresh space infused with creativity.