The Heritage of Cattelan Italia
Friday, 4 January 2019
"Home is the symbol of precious things," Giorgio Cattelan
Giorgio Cattelan, was the youngest of a family of seven children, the son of a well-known carpenter of Thiene, a small town in the province of Vicenza. Giorgio loved the aroma of wood in his father's workshop and cultivated the art of creating furniture – a tradition that continues to this day with five of the seven brothers.
Cattelan Italia was founded in 1979 from an idea by Giorgio and Silvia Cattelan, who started their marble-based furniture company, making products such as dining and coffee tables for the export market.
In 1989, to meet the growing market demand, the collection expanded with the addition of stools, chaise longues, sideboards, TV units, bookcases, mirrors and lamps. Using a variety of contrasting materials, from wood to glass and leather to metal, each stunning product is created with taste, style and comfort in mind.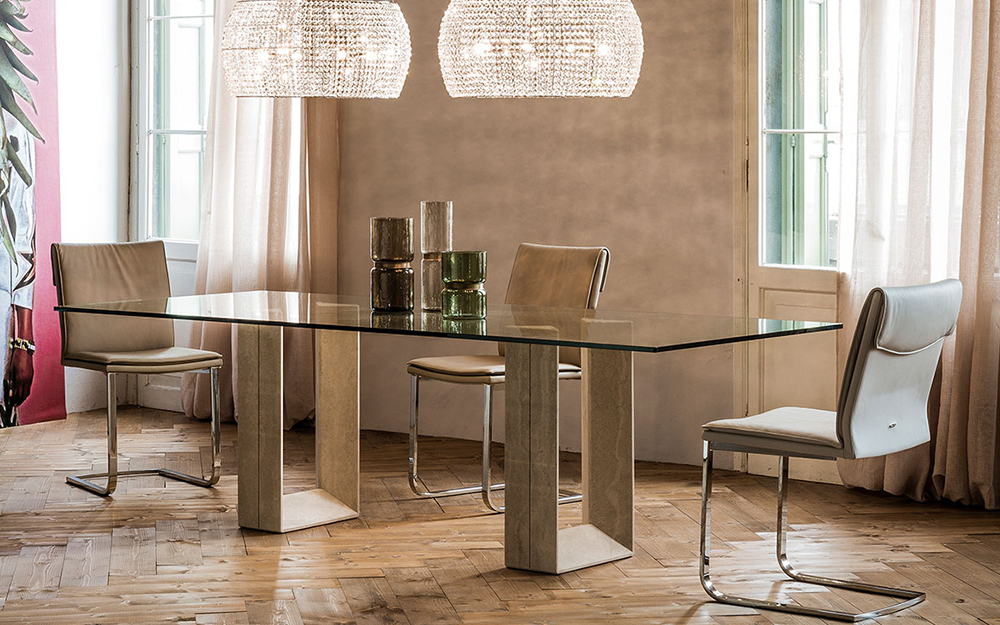 As pictured above: The Diapason Table by Cattelan Italia was designed in 1980 and remains one of its bestsellers
The minimal Diapason table, designed by Studio Diapason in 1980 and Italian creative Emanuele Zanere's iconic Valentino table are two of the noteworthy products from the company that remain bestsellers.
Paolo Cattelan, together with his brother Lorenzo entered into the family business in 1995, assisting their father in the management of different activities. Paolo says, "Our goal was to immediately grow with quality, both through the value of products, and promoting a 'Made in Italy' aesthetic that is an absolute icon of elegance and know-how. These were decisive years, not only from the commercial point of view, but also for the unfaltering values that our family business model has always wanted to preserve."
Lorenzo followed the brand image, drawing on its strong creative spirit. In 2002 he moved to Tuscany, in the Chianti DOCG region, to manage a winery with premium wine and a farmhouse with a 100-year-old farm.
With its acquisition in January 2011 of ARKETIPO, the world-renowned Florentine company, known for its prestigious refinement of its products, Cattelan Italy entered the world of upholstery design, driven by Lorenzo.
Paolo Cattelan CEO, is now a key figure in the evolution of trade and production of the Company, having a thorough knowledge of the market. He travels most of the year, both to sustain relationships with top clients, and to experience new countries in economic expansion. He is the protagonist in making stylistic choices, design and distribution.
Today, Cattelan Italia is present in 150 countries around the world, with over 350 stores, the Company continues to open new markets and consolidate strategic ones. Cattelan Italia has expanded its presence in major international fairs, such as Milan, Cologne, Paris, Valencia, Moscow, Kortrijk and more.
Cattelan's versatility and expertise in developing and combining different materials into its designs has allowed the business to stay ahead of the luxury furniture sector's evolution.
"Keramik has been a hot, ongoing trend," says Cattelan. In 2015, the company developed a new technique that allows for ceramic surfaces that look like marble to come with "harder, heatproof, waterproof, scratchproof features." As a result, the "demand for marble tops has come back to life."
The design of the furniture from Cattelan Italia stands out because of the amount of time and attention paid to the smallest of detail. Every single curve or twist you see on a Cattelan Italia product has been carefully thought through. Besides their beautiful designs, Cattelan Italia is famous for its innovative use of unorthodox materials in the production of pieces. The subtle choice of materials for specific pieces makes them stand out.
While most designers prefer to use hand-drawn sketches in their work, Cattelan Italia has proven that using technology to design and render pieces gives them an edge on competitors. They are able to create stunning designs and place them in a fully rendered mock-up room so you can see how the finished piece will look in any space
Catellan Italia continues to impress more than 40 years after their founding. Many of its designs can be found at Lime Modern Living.