The Colours of 2015
Monday, 15 June 2015
The Colours of 2015
The stunning blues and greys that are appearing so frequently in this year's design trends compliment beautifully the sumptuously tactile materials in 2015 furniture design. This Milan we had Brass and raw metal finishes such as Corten Steel and OPO, we also had Gorgeous Marbles and sculpted Wood in warmer walnuts and deep anthracites. We have been hunting down the perfect complimenting colours for these beautiful and bold materials and just love the Farrow and Ball colour palate. For Farrow and Ball shades of blue, that go so well with warm woods, bright metals and deep anthracites you are spoilt for choice.
Our favourite three are Lulworth Blue 89, a paler blue, with regency tones and depth, Oval Room Blue 85, a blackened blue that looks amazing with Grey shades and Stiffkey Blue 281, a darker shade with depth and richness. For Neutral Shades with tones of Grey our favourite three are Purbeck Stone 275, a neutral colour that looks beautiful with Greys, Light Blue 22, a silvery shade with a pale elegance and Lamp Room Grey 88, a blue/grey with a deeper colour which compliments both lighter and darker colours.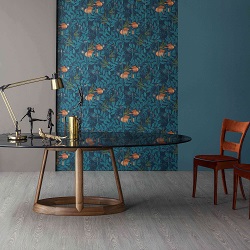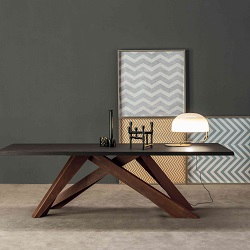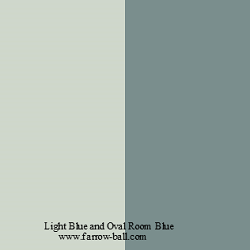 To really set off theses stunning colours and create a contemporary home interiors style, sumptuous materials such as marble are perfect. The Cattelan Italia 2015 collection introduces a marble style ceramic into their ever popular Eliot, Skorpio and Elvis table ranges. In pale Calcatta or Black Travertino both finishes look great with bold blues and all grey shades. Bonaldo introduce real marbles into their 2015 collection with the Greeny table, it has a choice four types of marble for the top (or glass as pictured above) and is complimented by a unique circular sculpted American Walnut, Grey Ash or Anthracite Ash base. A blue and grey decor also looks strikingly contemporary with Brass, Bronze and Treated Metals.
Bonaldo have brought us a range of metals with a different edge. Corten Steel is an oxidised finish with a multi-tonal depth and is available on the highly popular Big table and Gap table ranges. A rich Walnut or a grey/anthracite Ash table top would make a gorgeous accompaniment to these metals and also blend beautifully with a blue and grey decor. Bonaldo 2015 brings us the eye catching Monforte Coffee and Side table collection with a top in Brass, Copper or Pickled metal top and an American Walnut base. A great little table that has a timeless style.
Cattelan Italia have a stunning stripped and treated steel finish with their OPO metal, with an industrial decadence that enhances opulent materials and rich colours. The new Wish mirror has a subtle circle of OPO steel encircling a simple circular mirror and doesn't crowd or distract from a blue feature wall. A perfect accompaniment. Also new is the Topaz light which has illuminated globes of transparent, amber, light blue and smoked glass.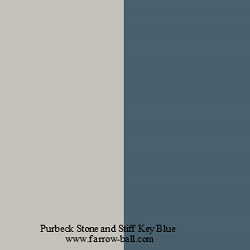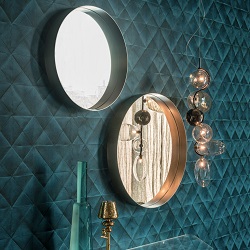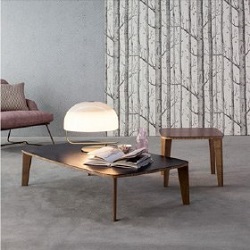 Based in Tunbridge Wells, Lime Modern Living prides itself on a contemporary collection that includes the very best in design and innovation to transform the home into a fresh space infused with creativity.