Staying Around: Circular Tables
Monday, 31 July 2017
Circular designs are continuing to dominate interior trends.
Following this year's strong inclination towards soft and bulbous upholstered furniture, new additions from brands such as Bontempi Casa have seen classic designs including the Artistico and Millennium Dining Tables reproduced in the form of low coffee tables with elegant round tops.
Cattelan Italia has skillfully transposed this theme in their latest collection, offering an array of spherical inspired creations. Opposing conventional flat tops, the Spiral Coffee Table features a quirky spiralling glass top with a concave centre and levelled outer section for quintessential coffee table functionality. The transparent smoke glass top finish exposes a curved frame; strongly emphasising the fluidity of this striking centrepiece.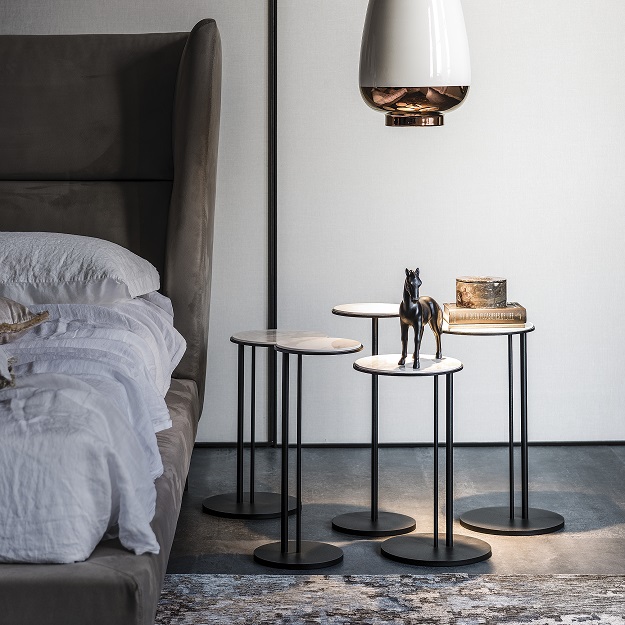 As Pictured Above From Left to Right: The Cattelan Italia Sting Coffee Table and Spiral Coffee Table
Featuring less imposing circular tops, The Sting Coffee Table has a coordinating shaped base on an elegantly tall stem. Available in six sizes and varying heights, on-trend layered cascading compositions become a key feature of this collection, created by combining the desired amount of pieces to suit your space.
Devoid of sharp edges, this distinctly sinuous form will render a delicately calming, alternative side table for either the bedroom or living room in contrast to angled square designs. The free flowing concept of the Sting allows for each composition to be conveniently used elsewhere when required.
Finished with a luxurious Ceramic top, the delicate linear stem adds a bold black accent, inviting sophistication into the desired space.