Spotlight on Distinctive Design
Tuesday, 10 May 2016
Artist Leonardo Da Vinci stated that 'Details make perfection and perfection is not detail,' a theme that resonates strongly throughout Contardi's innovative new lighting collection. From table lamps to statement ceiling lights Contardi's conceptually driven approach has derived a creative and characteristic collection tailored to transform and light up and your living space. Here we place the spotlight on a few of our favourites.
A direct reflection of the lunar eclipse, the Contardi Eclisse skilfully incorporates the shadows, overlapping and circular elements of this spectacular natural occurrence to generate a striking pendant light. Maintaining a minimalist approach designer Massimiliano Raggi has modestly combined three moulded wooden rings in contrasting light and dark bronze. The larger central ring is orbited by two diffusing disks which both serve as the main source of LED lighting and omit an additional softer light from their surrounding rings. The layers exuded coupled with a metallic finish that focuses heavily on current trends and colour schemes guarantees an awe-inspiring centrepiece for any contemporary space.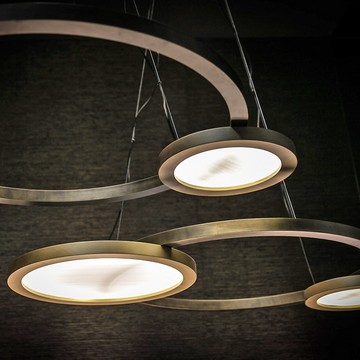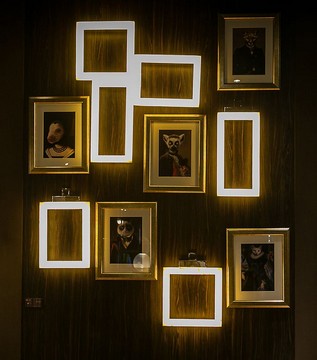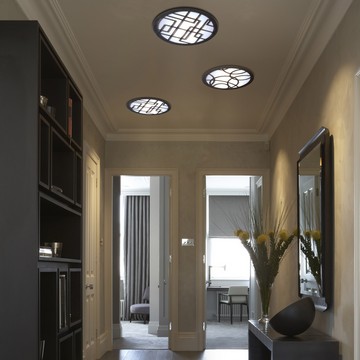 Left to right: Eclisse, Uffizi, Recessed
As a functional wall lamp the Uffizi can be utilized as both a lighting fixture and decorative art piece. The absence of any artwork allows this beautiful marble frame to become the subject, challenging the conventional expectation of the frame the Uffizi places emphasis on the shape and simplicity of its form which is accentuated further via a sober and elegant illumination. The Uffizi is available in three different size frames or as a trio creating the ideal opportunity to play with composition and size, whilst highlighting the unique retro quality this modest illuminating wall feature boasts.
The classic lantern has long served as a staple alfresco lighting feature, the Contardi Cube lantern takes inspiration from this timeless classic by allowing you to move it from the exterior to the interior. Comprising of a wood frame the Cube remains faithful to the conventional lantern through the use of meticulous and glamorous lines. Complete with the choice of a bronze or white finish each lantern possesses a glass diffuser to guarantee a soft warm summer light all year round.