Serve Up Summer - Dining Alfresco
Sunday, 16 August 2020
With Summer still in session, there's still time to enjoy your outdoor spaces and really make the most of the weather, and we think one of the best ways to enjoy this time of year is with a little alfresco dining.
Eating outside brings family and friends together and can really improve your mood, with research showing it improves concentration and can reduce stress - so you should be looking at your outdoor spaces to provide just as much functionality and style as your indoor eating spaces.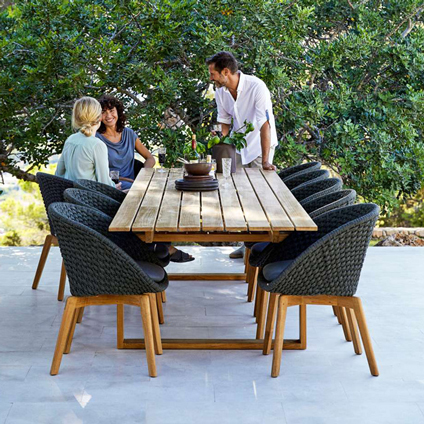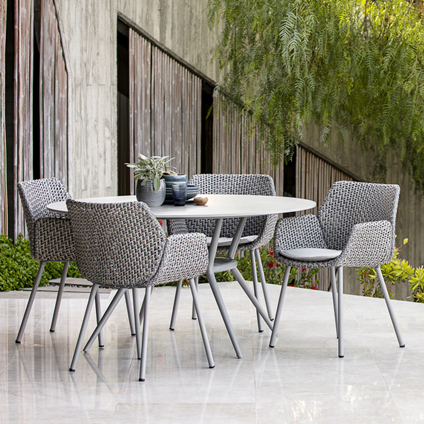 Pictured above: Endless Table and Joy Round Table, both by Cane-line
The Aspect Table by Cane-line offers a sleek and stylish space for large groups to get together. The ceramic top is finished in black fossil, giving it a contemporary edge, and will contrast against fresh watermelon and leafy salads, making them really 'pop' on the table. Ceramic tops can also be left outdoors year round, making them a great choice for durability, though we do recommend putting a cover over during the winter months for longevity and ease of cleaning in the Spring.
If you want to opt for a more classic and rustic look, the Endless Table by Cane-line will give you what you're looking for. Featuring a slatted table top and squared legs, it's 'classic' done in a new and stylish way, and will effortlessly compliment your outdoor areas. Rustic home-made chips, creamy slaws and BBQ burgers will really take centre stage on this table.
Or why not go for something that will really bring the family closer together? The Joy Round Table by Cane-line features an elegant ceramic or laminate top, with a metal frame and tapered legs. Its round design provides an excellent space for you to converse with those around you with ease, works great for serving those big bowls of pasta that you can all enjoy.
No matter what you decide to do with your outdoor spaces, make sure you take our advice and soak up those rays while they're here.