Seats That Have Your Back
Saturday, 12 June 2021
We can put a lot of pressure on our dining seating; it needs to hug us but not too tightly, support us but not too firmly, give us stability and structure without being uncomfortable — and it needs to suit our space visually too. There may be a lot we demand from our seating selections, but one thing remains a common wish amongst us all; we need our seats to have our backs, so to speak.
With that in mind, we've carefully selected some of our top chairs that we believe will give you all the support, comfort, and style you need to make your space a place that everyone will feel relaxed and at home in.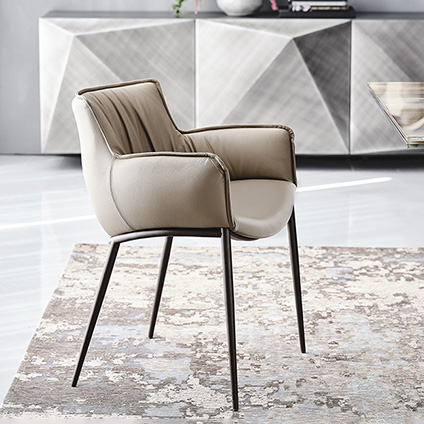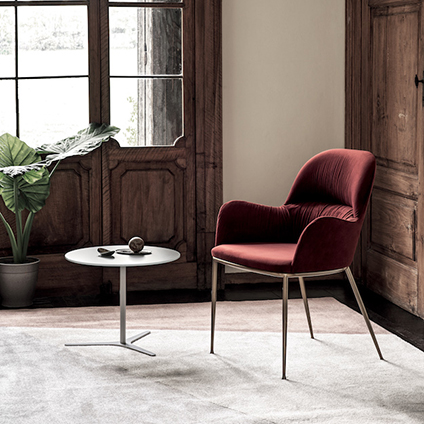 Pictured above: Rhonda by Cattelan Italia and Queen by Bontempi Casa
The Rhonda Chair by Cattelan Italia has an elegant curved frame that supports a plush padded seat complete with backrest and armrests that beckon you in with a stylised, relaxed appearance. The seat and frame are both available in a range of finishes so you can customise this to suit your needs. Similarly as elegant, the Queen Chair with Arms by Bontempi Casa is a great choice for those spaces that require a little glamour. Featuring a stylish upholstered seat with a ruched finish to the backrest and arms, and a frame in sleek metal or solid wood, this seat will compliment your space with ease. Or why not look at the Mood Upholstered Chair with Arms by Bontempi Casa to continue the theme in a more contemporary setting. The stitch-detailed upholstered seat is cradled in ergonomic Polypropylene, with a choice of metal frame, all of which come in a selection of styles and finishes.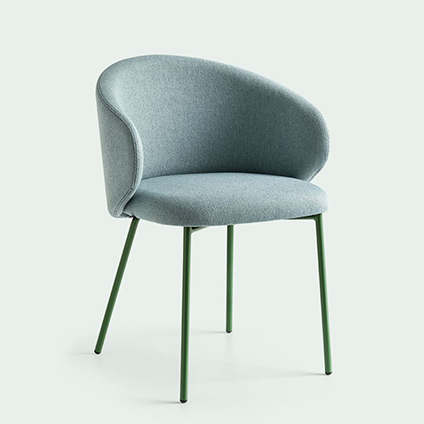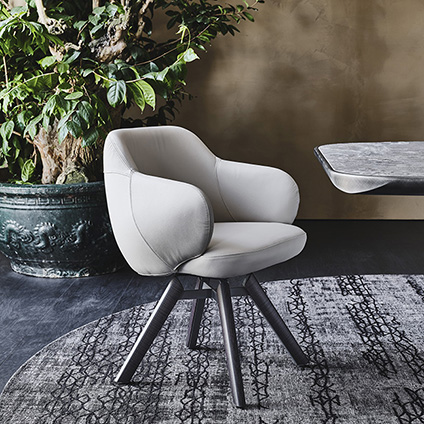 Pictured above: Tuka by Connubia Calligaris and Bombe by Cattelan Italia
If you are looking for designs a little more lighthearted, the Tuka Chair by Connubia Calligaris is a great choice. This contemporary design features a rounded upholstered seat and curved backrest which contrast against linear and geometric interiors and still give you all the function and comfort you expect. And if you want to really make a statement, then the Bombe Chair by Cattelan Italia comes strongly recommended. A smooth curved seat with wrap around arms and backrest are supported by a solid wood frame that fans out from the centre of the chair. Available a wide range of fabrics and finishes, this is a chair that will draw its own focus in a room.
When you're next selecting the seating for a space, why not consider what chairs have become and how pivotal they are to an experience. There are designs that give you everything you need — including style.