Rose Trends 2016
Saturday, 26 March 2016
Rose is a colour destined for great things in 2016, moving on from the stronger colour trends of 2015 into the softer and more welcoming tones of the new year, rose fits the criteria perfectly.
Although you may fear the use of such a colour may overpower a room, whether it be on the walls or subtly hinted throughout a room; rose is the perfect colour to help reflect a feeling of serenity and distinctive style particularly in the coming summer months.
A calm colour that warms up the essence of a room, combining Rose with metallic tones like brass or bronze takes away the perhaps juvenile feel that many would perceive it to have instead giving any room an edge of sophistication. Combining a rose colour scheme with whites or light greys helps to bring an element of modern living without it being too harsh or 'industrial'.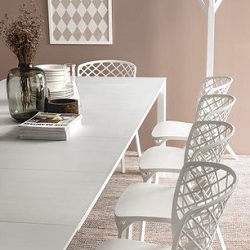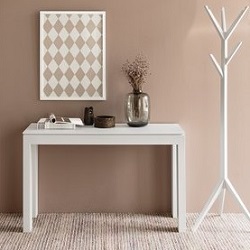 Left to right: Calligaris Gamera Chairs, Snap Console Table and Memorabilia Coat Stand
Calligaris has seen the ample opportunities that Rose presents when designing a room, combining Rose with white tones gives any room a fresh feeling all year round. The Rose Rug by Calligaris is extremely versatile suiting almost any setting. The combination of simple geometric shapes and tones of green and rose would make it stand out as a feature piece in any space.
The above images feature key subtleties with using Rose colour schemes within a contemporary setting. Customise with coloured walls and accessories to perfect the look. We love the use of "Peignoir and Cinder Rose" colours in Farrow and Ball's 2016 Collection to complement a contemporary neutral pallette.