Re-writing the classics
Saturday, 8 November 2014
Re-writing the classics
Porada have infused the classic with the contemporary to create a sophisticated range of furniture infused with a timeless elegance. Classic designs are re-written with a subtle but definite contemporary twist, which rather than screams out, knowingly whispers modern contemporary style.
Porada's Occasional range at Lime Modern Living include the versatile and popular Porada First Bookcase and Fancy Bookcase. Available in Canaletto Walnut or Spessart Oak these bookcases have beautiful detailing surrounding each shelf compartment and are open backed to maintain a sense of light and space. The base is in a Steel finish adding a flash of metal to attractively contrast the sculpted wood of these eye-catching bookshelves. Also in the range is the Porada Bea Armchair with gorgeous curves and a timeless shape, with the curve of the back echoing the distinctive circular base. The frame comes in either Ash or Canaletto Walnut, which includes a wide choice of tints and lacquered finishes and along with a wide range of fabrics and leathers you can custom your own classic contemporary style.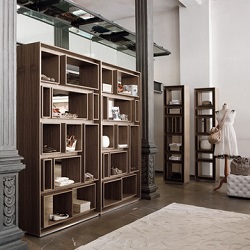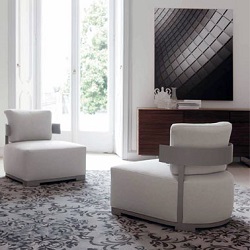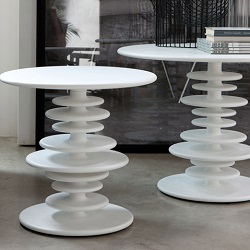 The Porada Riga Sideboard, as pictured with the Bea Armchair, is a graceful contrast with a deeply carved linear design and textured edges which flow almost seamlessly across the front and round the sides. The base is Satin Chrome and the wood is available in all the Canaletto Walnut finishes which blend together with an immutable sophistication. The Fluid Table is a stunning side table in Matt Lacquer, it's simple but amazingly effective sculpting will look great in any classic contemporary space. Available in three sizes and seven colours you can mix and match. Porada also have a range of finishing touches, giving their contemporary twist to Clothes Stands, Lamps and Mirrors. The Oktagono Mirror is a contemporary take on a classic octagonal bevel edged mirror, exaggerating the bevel and creating an oversized and opulent look. The Porada Four Seasons Mirror, has a contemporary fifties look with bisected mirror in a Canaletto Walnut surround.
Based in Tunbridge Wells, Lime Modern Living prides itself on a contemporary collection that includes the very best in design and innovation to transform the home into a fresh space infused with creativity.