Quilted Comfort
Wednesday, 8 February 2017
A craving for soft and cosy interiors is set to make the comforting quality of quilted upholstered furniture a key trend throughout the coming year.
In refute of sharp lines associated with metal and timber frames, this visually alluring texture will work perfectly in both the bedroom and living rooms when applied to captive oversize headboards and snug seats. Fully engaged with this contemporary trend, the Ego range from Bonaldo offers a quilted alternative to popular designs such as the Rios Sofa and Contrast Bed.
A luxurious feature piece the Alvar Sofa Bed showcases the sophisticated element of padded upholstery, whilst a protective nature is accentuated through its distinctly high enveloping structure. This cocooning design incorporates a soft mattress and side table in calming pastel hues, perfect for lounging and welcoming for special guests.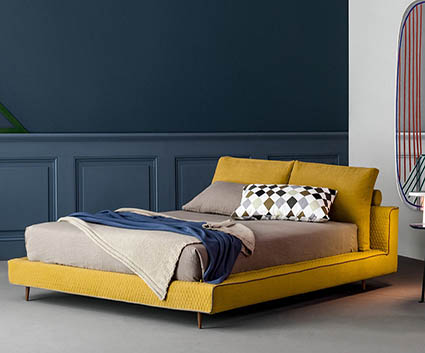 As Pictured from Left to Right: The Bonaldo Alvar Sofa Bed and Owen Ego Bed
Satisfying and supple The Owen Ego Bed is ideal for sinking into each night. A soft headrest and intricate quilted fabric detail offsets the harsh edges of it's angular padded surround to create an enticing bedroom centrepiece. Concurrent with contemporary colour trends it's distinctly warm mustard tone can be heightened with textured velvet throws and plush neutral brown linen.