Painting with Paper
Saturday, 23 February 2019
A striking alternative to paint, the difference wallpaper can make to any room has seen its popularity gain traction over the past few years, with bolder variations set to continue to make a statement throughout 2019.
Shifting away from conventional geometric and baroque designs, the popularity of themes and textures is encouraging brands to heavily invest research into prints, patterns and motifs with emphasis on conceptual elements that have the ability to enhance spatial and personal perspective.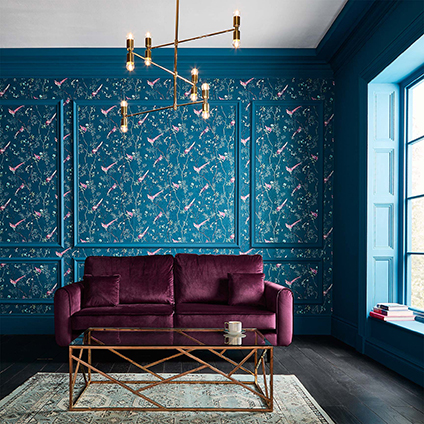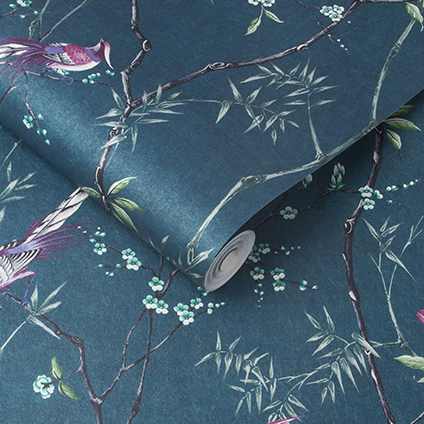 As pictured above: The Tori wallpaper design by Graham & Brown
Taking inspiration from Japanese artistry, 'Tori' from regarded wallpaper designers Graham & Brown determines an oriental theme enriched with imagery and symbolism. Noted as their Wallpaper of the Year 2019, this regal teal-based print strongly signifies longevity, luck and love through an exquisite hand-painted Chinoiserie bird amidst spring blossoms.
Opt for foliage as a natural aesthetic in bold oversize form to express an affirmative and equally opulent undertone with a captivating burst of joy. As an accent wall, establish nourishing femininity with florals or the soothing tropical ambience of botanicals as a commonplace concept in the home alongside velvet-textured furnishings.
Create a physical space with subtle shimmers and metallic accents. This alluring option offers the greatest light reflection around a room, maximising minimalism in airy open-plan areas and making smaller spots appear nice and roomy.