Outdoor Furniture – Home From Home
Thursday, 13 June 2019
As these warm months approach, it's time to take the inside out and create an outside living area for you, your friends and family to enjoy. And there are so many ways to achieve the perfect summer outdoor living space to give comfort, versatility and style.
If you're hosting a barbecue or drinks party, then a laid-back seating area is the perfect way to relax. Invest in some comfortable outdoor sofas, chairs and side tables - ideal for unwinding.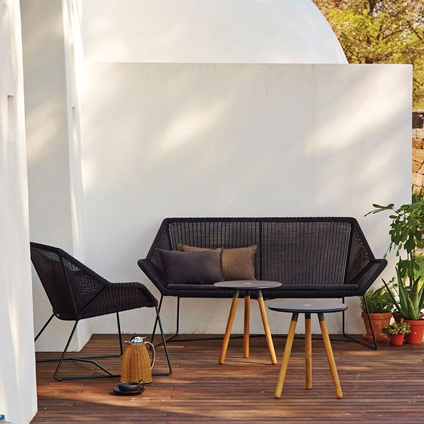 As Pictured Above (from left to right): Cane-line Breeze 2 Seater Sofa and Lounge Chair and Foscarini Solar Outdoor Light
If you're more likely to host evening dinner parties, consider an outdoor dining table and chairs to accommodate this. Where possible, place it close to the house to make setting up easier or invest in a storage unit to keep your tableware to hand.
If your garden has a patio or decking, adorn it with sleek in-vogue pieces. Stylish contemporary garden furniture is the easiest way to completely transform your space while creating a modern feel. In choosing simple items, you can mix up the look depending on the occasion or season. Add outdoor lighting for mood and accessorise with cushions, throws and potted plants in practical planters.
With the help of quality design, making your outside space become part of your home couldn't be easier and provides the perfect area to entertain and take time out from your busy life. So kick back and enjoy the summer breeze.