Outdoor Furniture by Cane-line - A Sensible Investment
Friday, 20 March 2020
Sometimes in the UK, we can be reluctant to splash out on outdoor furniture due to the wear and tear we expect during the winter months. But when it comes to Danish outdoor furniture company Cane-line, any investment is met by the materials used, the durability of the products and the multi-functionality of their designs.
Designed for comfortable outdoor living, Cane-line have produced contemporary garden furniture for more than 30 years, taking care to research the best quality materials to suit all types of weather. One result is QuickDry foam cushion inners, a unique composition with a rapid drainage system and easy air circulation. This gives us cushions that dry within around an hour after heavy rainfall, with no risk of mildew build-up - an ideal solution for British weather.
Pictured above: QuickDry seat cushions and the teak-topped Core outdoor dining table
Alongside this innovative technology are the high-quality materials. Popular in the Cane-line range is their stylish Weave finish, featured on the Peacock Weave lounge chair - a high-tech and UV-resistant polypropylene material designed to withstand all types of climates, and easy to clean. The craftsmanship is based on traditional weaving techniques that have been passed down over many generations in Indonesia - the home to Cane-line's production facilities. Here, weavers and designers meet to create new and innovative products, aesthetically pleasing designs combining maximum comfort with a long lifespan. The time spent crafting these high-quality pieces results in long-lasting furniture for your outdoor space.
All Cane-line outdoor fabrics and weaves are 'solution dyed' rather than 'surface dyed', meaning colour is locked in through the entire fibre and cannot fade in the sun. Cane-line's coated aluminiums are strengthened with a hot dip galvanisation technique resulting in up to 10x the durability compared to more common techniques, and their slim ceramic table tops feature a hidden metal layer to distribute warmth evenly in hot sun - avoiding cracking. For wood elements, teak is ideal for outdoors due to a high oil content, and Cane-line use a certified Indonesian Teak for theirs that is approved and forested under the SVLK (Sistem Verifikasi Legalitas Kayu) certification system.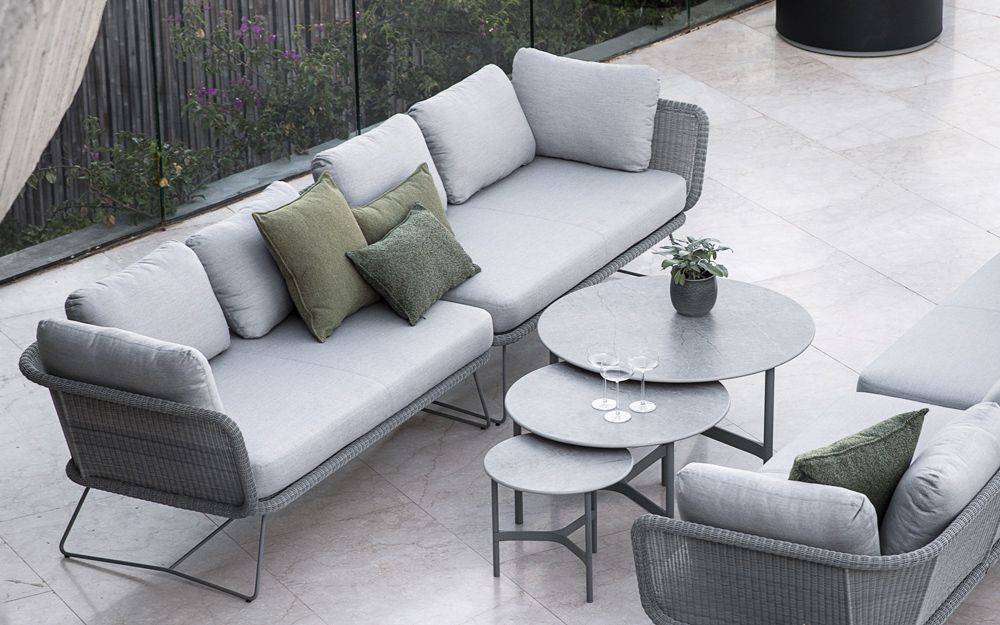 Pictured above: Horizon Sofa and Twist Coffee Tables
Cane-line also have a strong ethical practice and have been certified in accordance with International standards, guaranteeing that the furniture you buy has been manufactured with respect for both the employees and the environment. They strive to be a very conscious company with regards to waste, recycling and working conditions.
Not only do Cane-line excel in high-quality materials, ethical standards and stylish designs, but they create adaptable furniture that can be used both outdoors and indoors - ensuring you'll get the most out of your purchase. After all, if you're going to invest a little more in outdoor furniture, why not make the most of it all year round.
With all-weather products that promise a long lifespan, low maintenance, optimal durability, high comfort and a company that goes above and beyond to meet ethical standards - why not?