New Year's Resolutions, Not Just For New Years
Saturday, 1 January 2022
We often see the start of a new year as a great opportunity to set new goals, and inspire a 'new year, new me' attitude — but the truth is, many of us repeatedly make lists of plans that we don't see to fruition. So how can we make some resolutions that will last and that we will stick to?
Here are some great tips to make sure your New Year's Resolutions aren't just for new years.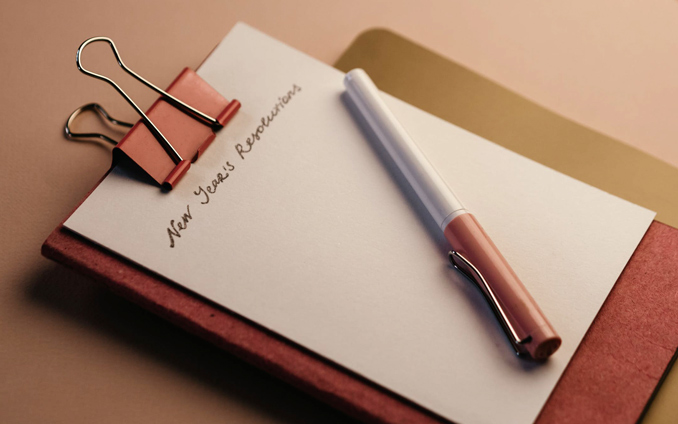 Be specific about your goals - don't make vague statements like 'I'm going to move to the coast', instead, break this down into achievable targets such as 'I'll research suitable coastal towns', this way you're a lot more likely to stay focused on the task at hand.

Don't try to commit to too much - focus on one thing at a time. This helps you to ensure you are going to achieve your goal instead of trying to achieve too many resolutions all at once. Change takes time and requires dedication so you need to ensure you aren't overwhelming yourself.

Make a plan - schedule out some time to make a robust plan of how to achieve your resolution. This could be a list of milestones, or a brainstorm map of ideas, but it will help you to visualise ways of making ideas come to life.

Get support - tell others about your resolution and get their help, it's much easier to stay focused and embed a change in your life when those around you are there to help ensure you stay focused and on track.

Review, review, review - it's tempting to stay so focused that you don't take the time to reflect upon how you're doing and the progress you're making, but this is vital to your success. Celebrate when you have achieved even just small steps towards your goal and you're less likely to feel disheartened if the overall journey takes longer than you anticipated.

If it takes months, so be it; Sometimes the longer you take to embed a change, the more likely the change is to stick with you.
So don't let this New Year to go by with another set of forgotten resolutions; be focused, make your goals achievable, and bring your resolutions into reality.