New Calligaris and Connubia Collections
Sunday, 10 October 2021
Renowned brand Calligaris continue to experiment with new materials, finishes, and designs, and their latest collection showcases the innovation and stylish aesthetic that has become their signature. Younger sibling Connubia add a touch of playfulness with pastel colours and unexpected shapes. Here are a few of our favourites.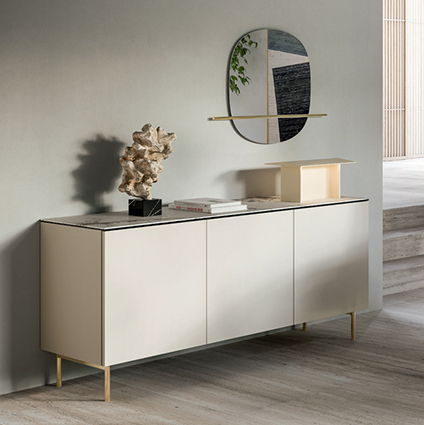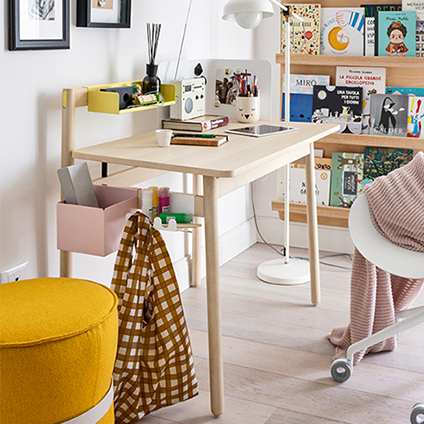 Pictured above: Universal Sideboard by Calligaris and Ens Desk by Connubia
The Universal range of sideboards from Calligaris allow you to customise almost all of the elements, from the tops, legs, and doors, making your very own unique design to suit your aesthetic and interior needs. To simplify the choosing process we've separated the range into the Stripe Sideboard which has a patterned 'Ebony' veneer or textured walnut striped doors, the Inlay Sideboard with ornate inlayed veneer doors in herringbone or square patterns, and the Universal Sideboard featuring a simple lacquered wood.
Connubia's Ens Desk starts with a simple base and lets you add colourful storage pieces — hooking them on to the back, side and front — to create a unique workspace bespoke to your needs.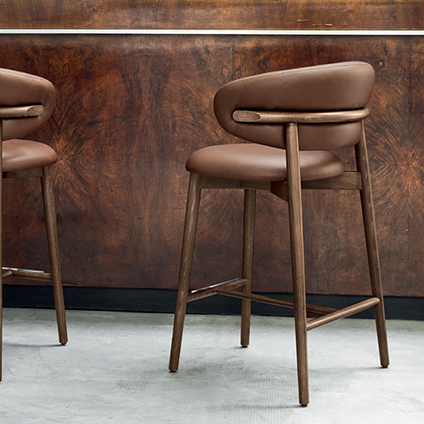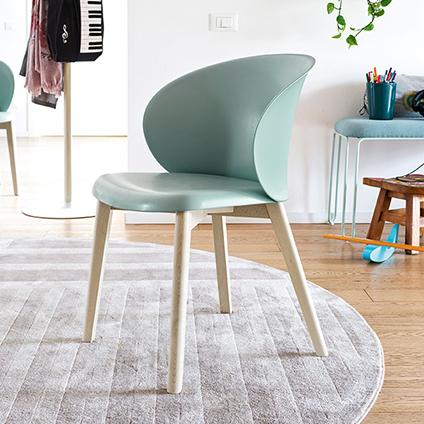 Pictured above: Oleandro Bar Stool Wood Legs by Calligaris and Tuka Chair Wood Legs by Connubia
The Calligaris Oleandro Bar Stool with Wood Legs adds instant style with its solid wood frame, upholstered seat, and curved backrest. The footrest features a chrome insert for durability, and the entire stool is available in a selection of different finishes. Connubia's Tuka Chair and Tuka Chair Wood Legs both bring out bold design possibilities. Featuring a statement C shaped back and seat moulded in sleek recycled polypropylene material, all supported by slender lacquered metal or wood legs. The metal-legged chairs are available in stacking and non stacking styles, and all can be customised in a range of finishes.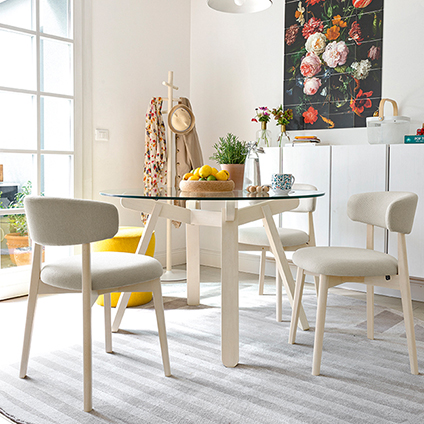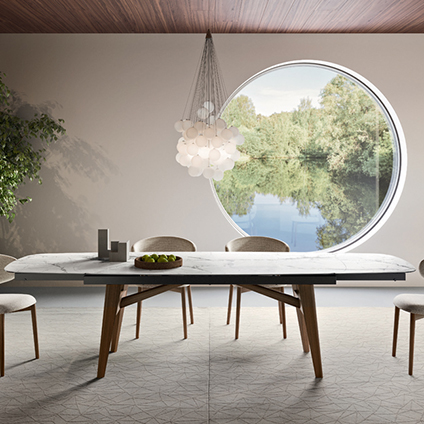 Pictured above: Peeno Round Table by Connubia and Abrey Table by Calligaris
Tables in the collections span playfulness and practicality. The Peeno Round Table by Connubia has a striking wood frame made up of four round-ended angular legs supported by two V-shaped structures. The frame is complimented by a circular transparent glass top that allows the frame to become the focal point of the entire design. Calligaris' Abrey Table is a contemporary take on a classic staple, resulting in a fresh but warm look. The simple ash wood base features up-to-date tapered legs with a cross bar detail, and supports a statement ceramic top — in a selection of fixed and extendable sizes.