New 2021 Cane-line Collection
Friday, 23 April 2021
Cane-line are a Danish premium outdoor brand creating stylish designs that are made to withstand the elements. Their fabrics and woven finishes are dyed all the way through to the core so you won't find any fading in the sun; aluminium finishes are coated to marine-grade specifications; and teak wood, with its high oil content, is the classic choice for longevity out of doors. The great thing about having products that will last means that the only time you'll need to replace them is when you're eventually ready for a whole new style update — and even then, you can confidently pass them on.
As we write the sun is shining, and we're excited to introduce you to some of our favourites from their 2021 collection.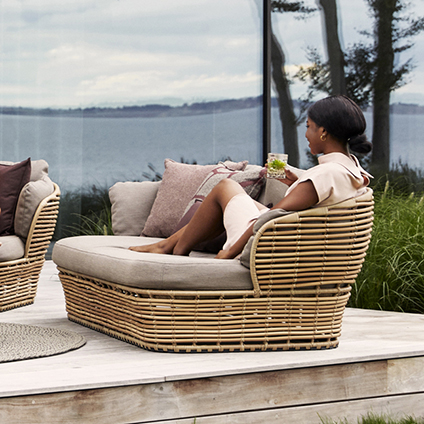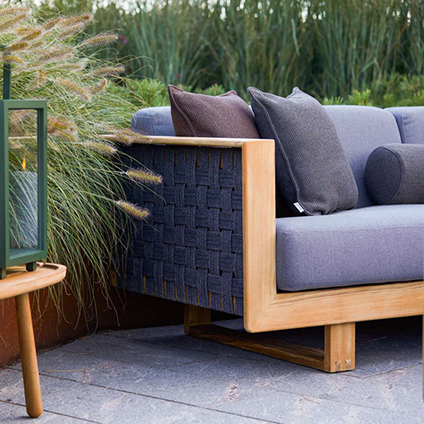 Pictured above: Basket Sofa and Angle Sofa
The Basket Chairs and Sofa draw inspiration from traditional rattan furniture but with a new design twist; these hand-woven structures are marine-grade powder coated galvanised steel. The furniture features Quickdry cushion inners, with water repellent lining — 80% of water runs off and 20% runs through — great in a shower, but also cooling as air can run through, making them perfect for hot summer days.
The Angle Sofa is an elegant design with a sleek straight frame in a warm teak finish. The back and sides are beautifully hand-woven in Cane-line soft rope, and again Quickdry foam cushions complete the design.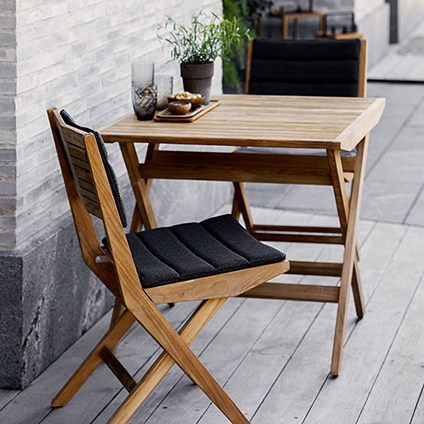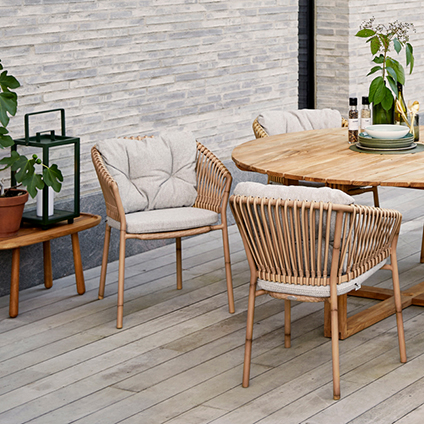 Pictured above: Flip Table and Chair and Ocean Weave Chair
For a sophisticated outdoor chair in a clever natural look, the Ocean Weave Chair gives you all the elements of a traditional chair design with a contemporary update. With a pleasing 'cane-effect' appearance, the chair is finished with powder coated aluminium with matching hand woven Cane-line Weave, is stackable, and can have an optional weather resistant seat & back cushion.
Function meets design with the Flip Folding range. This folding table and chair are classic in their composition, with X shaped legs and supportive bars that run parallel underneath the main slatted top or seat areas. The designs are made from Cane-line's hardwood teak which as we know is great for use outdoors, and everything can be conveniently folded down for easy storage.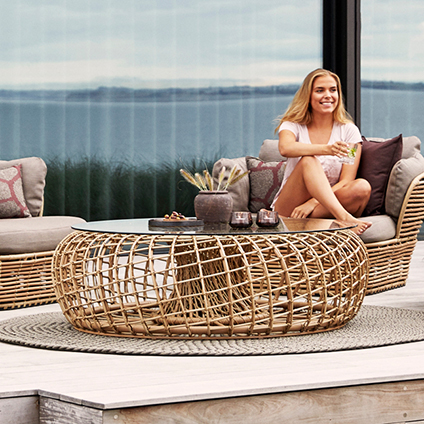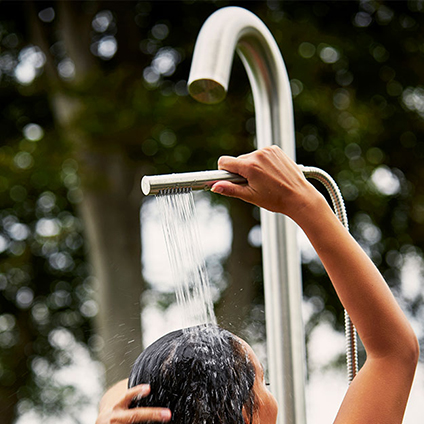 Pictured above: Nest Coffee Table and Lagoon Outdoor Shower
The Nest Coffee Table has a stylish, round, doughnut shaped design that can be complimented both with or without a safety glass tabletop. The hand crafted Cane-line weave wraps around the structure creating interesting shapes and lines.
Last but certainly not least, the Lagoon Outdoor Shower is one of the most elegant we've seen, featuring a striking curved stainless steel structure with a detachable handheld shower head, complete with hot and cold functions. The shower comes with an optional hardwood teak slatted footbed on a marine-grade lava grey aluminium base. Perfect for cooling off after a long day.
So go and explore the exciting new collection, and add these long lasting designs to your next outdoor design project.