Naturally Contemporary
Wednesday, 14 January 2015
Naturally contemporary
There are so many ways of introducing wood in your contemporary space, it offers texture and warmth alongside shape and structure. Porada are the definitive Italian designer for using wood in their contemporary designs. Porada use both modern tech and traditional artisan crafts to create their wide range of modern furniture.
Porada furniture use many different finishes which can transform the look and feel of a piece of furniture to suit so many environments. Porada Canaletto walnut has a beautiful closed pore finish where the wood is smooth to the touch and looks sleek and lustrous. Porada Canaletto walnut doesn't end with a mere walnut appearance but is also available in a range of stained finishes such as wenge and moka. Porada also have a range of smooth closed pore Matt lacquers in sumptuous greys and creams. Porada Ash has an open pore finish where wood grain shows, giving it a stunningly tactile feel and appearance. Porada Ash is also available in a range of stained and lacquered finishes. Mixing a natural material such as wood with Glass and metals adds another contemporary edge to using wood. The soft patina and natural grain can be highlighted by pairing wood with flawless, hard Glass or modern metal shapes to create superbly contemporary spaces.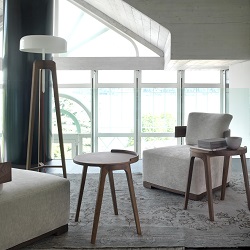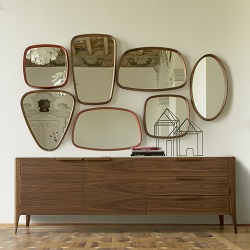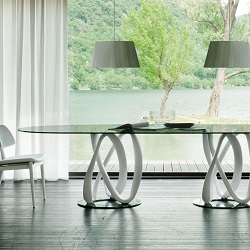 Great examples of using wood in a contemporary space are shown here with the Porada Infinity table in closed pore matt White lacquer with matching finish on the Nissa chair, mixing together flowing white wooden sculpture with clear glossy glass for a clean and smart contemporary style. The long and stylised Porada Atlante sideboard is shown in Canaletto walnut, with the different shapes of the Mix mirror in a range of finishes, creating a chic retro contemporary style. The Porada Bea armchair is complimented by the Deck side table and the Pileo lamp, with its metal shade and red chord, alongside white and grey soft fabrics for a more classic look with a contemporary twist.
Based in Tunbridge Wells, Lime Modern Living prides itself on a contemporary collection that includes the very best in design and innovation to transform the home into a fresh space infused with creativity.