Manutti Visit 2017: Luxurious Outdoor Sofas
Monday, 17 July 2017
Our sales and logistics teams recently visited Manutti's headquarters in Belgium.
Renowned for transposing luxurious indoor living outdoors, the team thoroughly enjoyed trialling contemporary statement pieces such as The Kumo and Zendo Modular Sofas alongside learning the more in-depth technical aspects of this luxury outdoor brand.
Presenting a relaxed al-fresco lounge experience, Manutti's tranquil designs feature sumptuous 'Quick Dry' foam filled cushions, composed of a special honeycomb structure designed to dry quicker than high resilience foam by allowing water to run through three times faster.
Specifically developed for outdoor usage, Manutti's broad range of all-weather fabrics offer an extra protective barrier. Each cushion is lined with a synthetic technical material similar to that of wet-suits. Such fabrics are principally water-repellent and UV-resistant, ensuring they will not fade under sunlight.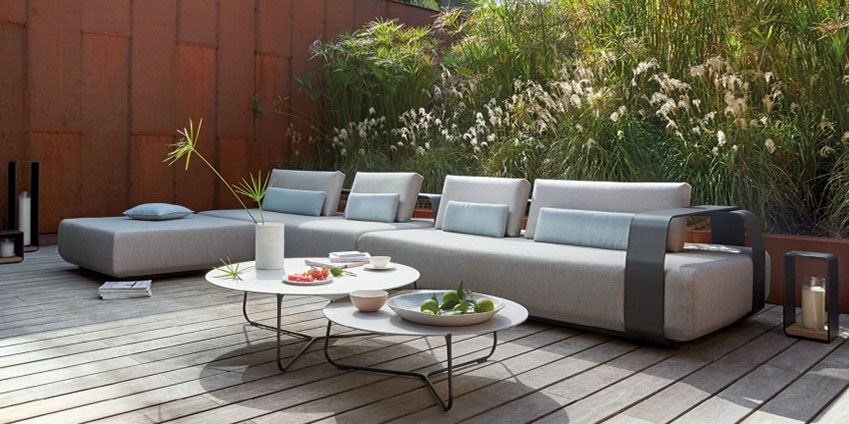 As Pictured Above from Left to Right: The Manutti Kumo Sofa and Mood Coffee Table
A hidden section of the outer fabric is finished with Batyline, a loosely woven netting made of UV-resistant, mass-coloured PVC fibre. This section is nestled either underneath or behind the cushion, enabling the foam inside to breath and any water absorbed by the furniture to drain out of the bottom.
Like all Manutti designs, the stylish angular anodised aluminium frame of the Zendo Collection is composed to withstand extreme temperatures of 30-70 degrees Celsius and is highly durable when situated near the sea, swimming pools or highly industrial areas.
Inspired by the Japanese word for cloud, Kumo's striking looping aluminium arms and backrests are made in keeping with its comforting and soft appeal; reinforced with steel which enables the sitter to perch with ease. The Powder Coated Aluminium finish is also a key material used on the exterior of high-end sports cards such as Jaguar and Porsche, proving easy to clean and maintain.
This commitment to technically advanced, high-quality finishes demonstrate why Manutti's luxurious outdoor concepts are guaranteed to be appreciated for years to come.