Making Scents: Oil Diffusers for the Home
Friday, 21 September 2018
A simple and safe solution, essential oil diffusers have gained popularity as a quick method for scenting the home, with added health benefits that connect us to the healing potential of plants.
Creating a cool, odourless water vapour, diffusers can be easily infused with a few drops of your desired oil. By triggering our sense of smell, studies have shown that essential oils ignite the most primitive area of the brain - the amygdala - which directly connects to our deepest feelings, affecting both our health and mood.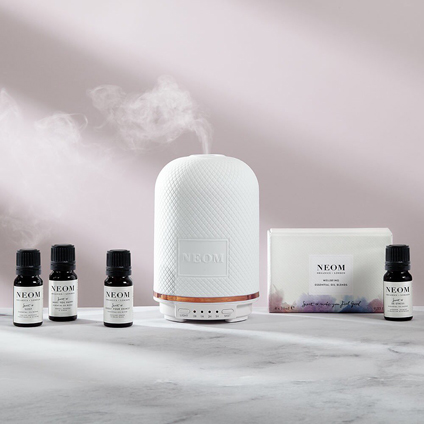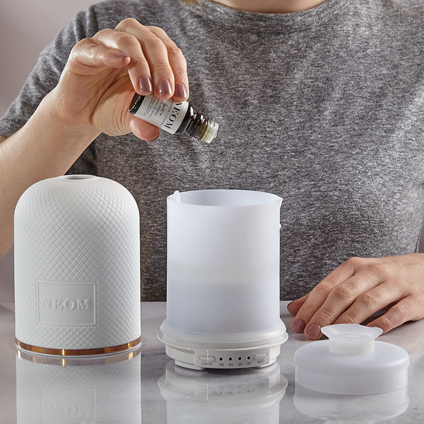 As pictured above: The Neom Organics Essential Oils and Wellbeing Pod
Using diffusers in the bedroom creates a relaxed ambience, and ultrasonic designs available from John Lewis have a timer and an automatic turn-off feature so you can drift off to sleep with ease. Choose single note essential oils such as lavender, lemon and rosemary to increase serotonin levels and promote a utopian environment to help you calm and de-stress.
Replace chemical air fresheners with high-quality oils that offer antiseptic, antiviral and antibacterial properties. Eucalyptus, peppermint and oregano have cleansing and purifying elements that will stimulate the immune system, remedying infections and respiratory concerns throughout the winter months ahead.
Social living rooms and studious home offices require optimal energy and creativity. Expert blends from Neom Organics fuse lemon and neroli oils, which will encourage the production of endorphins, perfect for maintaining focus and uplifting the mind for an overall sense of wellbeing at home.