Let's Take The Cooking Outside
Friday, 7 August 2020
The warm weather draws us outside more and more, and so it makes perfect sense to bring your kitchen experiences outside too. We've selected some of our favourite outdoor kitchen appliances and accessories to elevate those occasions when you want to cook under the summer sun.
A lot of our cooking involves prep, and for that we need a surface with plenty of space and functionality - and the Drop Kitchen from Cane-line offers all that and more. From a stainless steel surface complete with a sink, cupboards, removable waste bins and even towel rails, we believe this unit has everything you need to bring your kitchen outside. There's even a Drop Bar Unit also from Cane-line which offers similar functionality to the Drop Kitchen but has a contemporary slatted bar allowing guests to sit back and relax as you prep.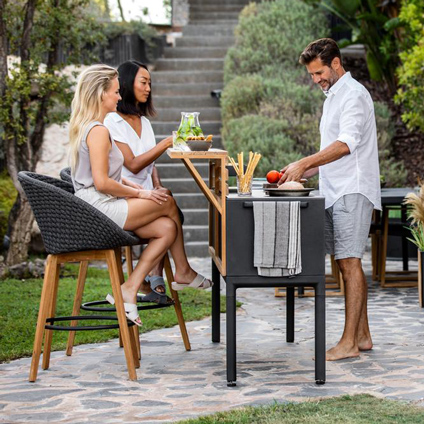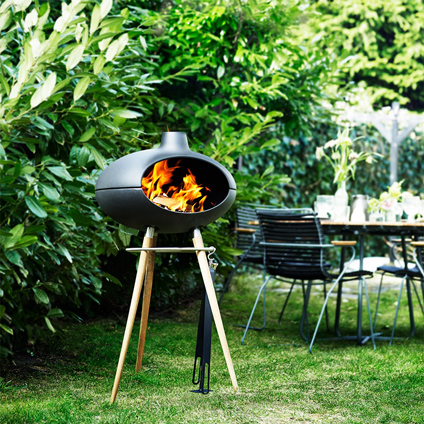 Pictured above: Cane-line's Drop Kitchen available at Lime Modern Living, and Morsø's Gas Forno II Grill
If you like cooking, and want the ultimate BBQ experience, then you might enjoy the Everdure Force Gas BBQ by Heston Blumenthal, which features 2 independently controlled gas burners, instant searing, and an extra high hood for convection cooking. Or if you're a fan of that smokey BBQ flavour, then why not try the Smokey Mountain Cooker by Weber; the 'bullet' shape allows the smoke to infuse with the food, with a low and slow approach to cooking - focusing on taste rather than haste.
For the more contemporary chef, the Gas Forno II Grill by Morsø offers an open flame approach to cooking, providing more of a fire-pit or bonfire experience. The large open space allows for increased oxygen intake, thus improving burning conditions. This is a great way of enjoying the heat and drama of open flames, whilst also doubling as a cooking appliance. Now if BBQ food doesn't quite do it for you, then why not try a pizza oven? The Koda Gas Powered Pizza Oven by Ooni offers you pizzas in 60 seconds flat, and is ready to cook right out of the box. It's small yet stylish design means it can easily integrate anywhere into your outdoor space.
So bring your love of your kitchens outside and experience the joy of cooking in the summer sun.