Let There Be Light
Saturday, 29 June 2019
Summer highlights the unique correlation between light and mood. Scientifically proven to improve mental wellbeing, longer hours in the day and increased periods of light can naturally increase levels of serotonin, which help to elevate spirit and re-energise our body.
Demonstrating the psychological reactions that varying light fixtures in a room elicit, at the 2019 Milan Design festival Google emphasised how particular methods of illumination also create a temporary state of mind or feeling. Taking into consideration the function of each room, at home there are three layers of lighting that can be considered in order to maximise our potential in each space.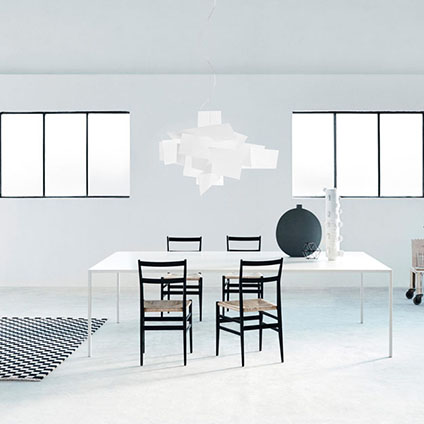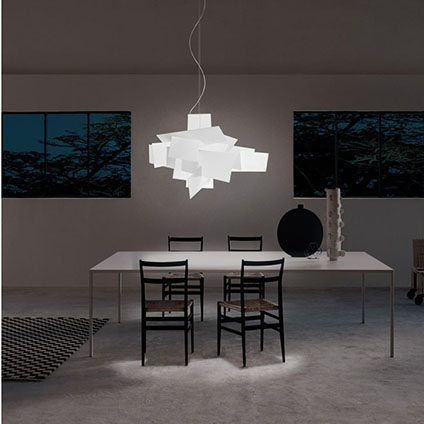 As Pictured Above: Foscarini Big Bang Suspension Light from Lime
Ambient Lighting
Delivering overall illumination, ambient lighting sets the tone of a space and is the first base layer of home lighting. Distinctively soft or diffused, ambient lighting creates a general and uniform level of lighting that bounces off walls in the form of ceiling or wall mounts, floor and table lamps, as well as pendants and recessed fixtures or down lights. Dimmable versions can be softened as required to help alleviate stress and generate the relaxed environment typical of ambient lighting.
Task Lighting
Focused on a particular area, task lighting provides intense illumination that will naturally stimulate your brain. Particularly important in kitchens and offices, it is brighter and more focused making it appropriate for activities that need to be performed such as cooking, reading or computer work. Effective options that make you more alert, promote concentration and are glare-free yet strong enough to prevent eye-strain include pendants, recessed fixtures with down lights, desk, floor or table lamps.
Accent Lighting
Offering a purely aesthetic purpose, accent lighting is used to highlight a specific area, object or architectural feature and often helps to give the impression of a larger room. Recessed lighting, track lights or wall-mounted options are most effective and for maximum impact are typically three times as bright as ambient lights to place importance on a particular area.