Kitchen Bar Stools
Friday, 14 May 2021
If you have an open plan kitchen with a breakfast bar then you'll understand the challenge in finding bar stools to suit a kitchen space, that also harmonise with and add value to a living space. This challenge can lead to countless hours of research and shopping — so we've selected some of our top designs that we feel will suit the brief perfectly.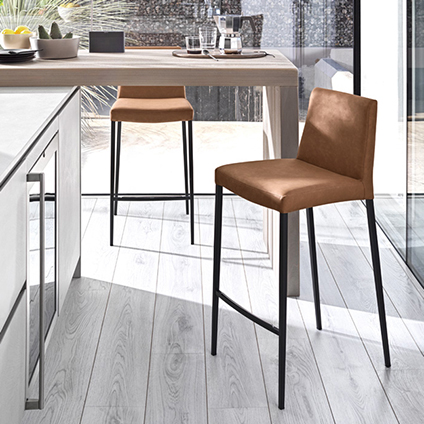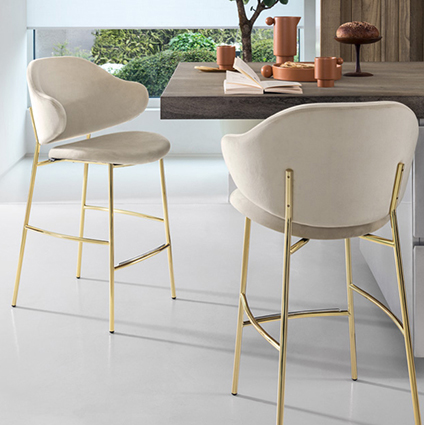 Pictured above: Aida and Holly stools by Calligaris
The Aida Bar Stool by Calligaris is neat and functional, with a slender frame and an upholstered seat in a variety of velvet or leather colours to suit any type of space. For stools that complement the more styled space, the Oleandro Bar Stool or Holly Bar Stool by Calligaris both offer tubular metal frames that support comfortable padded seats and backrests that come in a choice of fabrics and styles including leather and faux leather. These designs make great work of space blending, taking you seamlessly from one interior to another.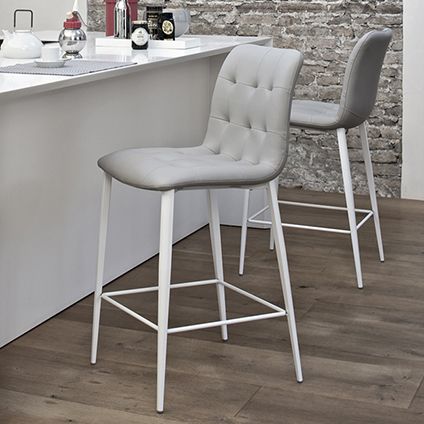 Pictured above: Kuga and Clara Quilted Gaslift stools by Bontempi Casa
If you're looking for stools that make a bolder statement, then why not explore the Kuga Bar Stool by Bontempi Casa. It features a luxurious padded seat with button detailing, in a wide selection of fabrics and finishes to easily complement the warmth of your living space furniture and fabrics. Or the Clara Quilted Gaslift Stool by Bontempi Casa with its contemporary gaslift function, padded seat and bold quilted backrest. This design is for those spaces that need a more elevated and elegant transition, and it offers the ultimate bar-sitting experience.
We hope these options have given you some inspiration for your breakfast-bar space. It's an important area that can often be overlooked, yet is arguably that most important spot to blend and transition your living and kitchen areas together.