Introducing retro style
Monday, 5 January 2015
Introducing retro style
Retro styling is a big trend for 2015 and those beautifully curved silhouettes of the early sixties are back. Calligaris have used layering and abstract shapes together with curved edges to create a new contemporary twist to subtle retro styling.
Accessories can be an effective way to introduce a retro influence to a room, the Calligaris Match mirror is a great introductory item. The mirror is available in two sizes, square or rectangular and both have a subtle sixties shape with rounded corners and curved sides. The match mirror has a slim wooden frame in either Natural or Smoked finishes, which compliment without dominating. Another way to introduce a retro look is with occasional tables. The Calligaris Match collection also includes a range of occasional tables with round edged tops, available in four sizes, one of which has a beautifully retro two-layer top. The Match tables can be mixed to create combinations of sizes and colours including natural woods, Mustard, White or Nougat. Also Calligaris have introduced the new is the Calligaris Tweet occasional table with a two tiered top with rounded edges and retro shaping, on slim lacquered metal legs.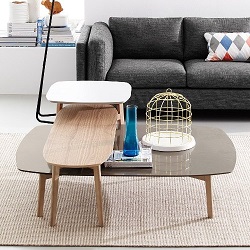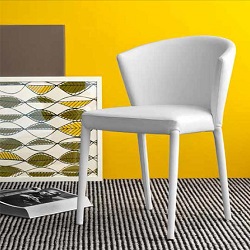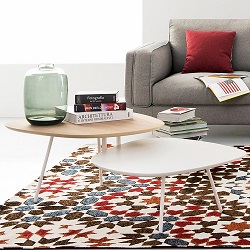 For a greater retro feel, the new Calligaris match desk is a stunningly sixties influenced amalgamation of contemporary retro styling. The desk has a two colour design with either Natural or Smoke wood top and frame, with a Top shelf and lower drawer in either White, Mustard or Nougat lacquered wood. The rounded legs and curved edges of the desk top are complimented beautifully by the angles of the lacquered detailing. The Calligaris Amelie chair creates a subtle retro silhouette with a rounded back ending in angular points, with the line of the angles following down through the back legs. This chair is fully covered from tip to toe in either vibrant coloured fabric including Aquamarine, Purple and Yellow or real leather including the charmingly retro Arctic Blue The Amalie chair can be used singly for a subtle hint of retro or multiply in a dining or living space for a stronger retro influence. The new Calligaris Lazy armchair is a striking modern classic in retro sixties styling, with distinctive proportions and sweeping curves. The chair's base is available in slim metal, or wood, both of which echo the arcs of the seat beautifully and is available in Aquamarine, Taupe, Purple and Yellow Kama fabric.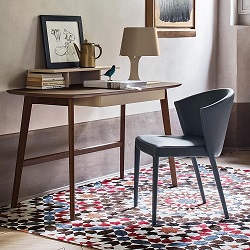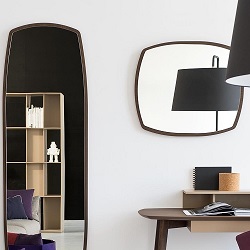 Based in Tunbridge Wells, Lime Modern Living prides itself on a contemporary collection that includes the very best in design and innovation to transform the home into a fresh space infused with creativity.