Hunker Down with Cosy Knitwear
Wednesday, 26 December 2018
After an abundance of food this Christmas, there's nothing more inviting than snuggling up on the sofa in handcrafted knitwear by Kate Jones. Made from the finest quality yarns, her throws are luxuriously soft and tactile and feature a striking fine stripe and geometric design, which are inspired by patterns found on the beach. Available in ochre, charcoal and fossil, these will enhance your sofa and bring warmth and comfort on a cold night.
Complement your throw with one of her bespoke cushions, which features designs inspired by traditional tribal textiles and the raw textures of the British coastline. In natural colours, including ochre, mustard, ecru and grey. And to keep you all wrapped up and warm on that wintry walk, this year sees the launch of her Arranmore Collection – a range of luxuriously cosy and tactile scarves, hats and mittens for men and women, crafted using Donegal yarn from Ireland.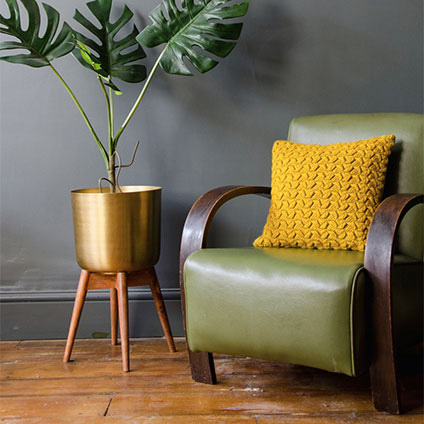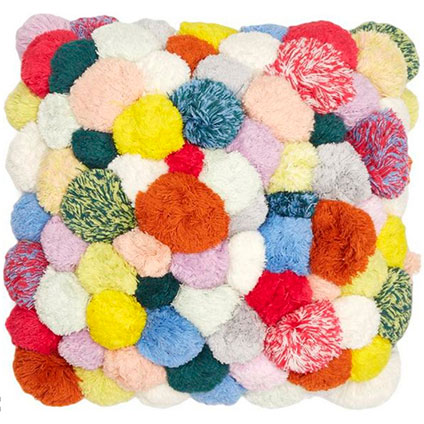 As pictured above: The Drift Cushion by Kate Jones and Verloop's All-Over Pom-Pom Cushion
Alternatively, if it's classic and contemporary you're after, then Liberty has a new range of throws, including from Irish-born company Avoca – hand-woven with passion and personality, its cashmere throws ooze a festival of colour and texture, making them a great comfort blanket in the wintry weather.
Or, lend an opulent touch to lounging or sleeping areas with the Matryoshka quilt from family-run, Paris-based homewares brand Le Monde Sauvage. Drawing upon twin passions for globetrotting and cocooning at home, Le Monde Sauvage's luxe modern textile designs add an injection of personality to interiors.
If it's bold and bright you're looking for, Danish-born designer Christina Lundsteen is prized for her unflinching way with colour. Using luxuriously soft cotton velvet as her sole fabric, each cushion in her collection is a textural wonder. Meticulously handcrafted in Denmark, the cake cotton velvet round cushion will lend an artistic streak and irresistible snug appeal to a reading retreat or armchair.
And not forgetting the Verloop All-Over Pom-Pom Cushion - it epitomises the New York-based brand's smart and innovative approach to traditional knits. Place it in a simple, modern space for a sprinkle of Pop Art-inspired joy during the festive season.