Five Contemporary Bar Stools
Saturday, 13 June 2020
Whether you're sitting down for breakfast, or leaning into an evening of wine, bar stools are a go-to item at the moment. But with so many variations and options to choose from, it can be quite the task to find the perfect fit for you. Here we've put together our top 5 contemporary bar stool picks in the hope that we can make that task just a little easier.
Pictured above: Palm by Calligaris and Kuga by Bontempi Casa
With three different leg options, the Palm by Calligaris can be customised to suit your space with ease. The curved seat will give you more support than a standard flat seat, and you can even choose between a range of velvets, faux and real leathers.
Now featuring customisable base colours, Bontempi Casa's Kuga features an elegant padded seat with button detailing. The high back also means you've additional support for an extended sit down.
Pictured above: Polo and Queen Bar Stools, both by Bontempi Casa
Neat tubular metal legs, a footrest, and a low rounded back give Bontempi Casa's Polo everything you need for a style update. You can choose from a variety of colours and combine wood, polypropylene and fabric finishes - giving it the ability to fit it into almost any design.
Another favourite by Bontempi Casa, The Queen shows a little bit of elegance goes a long way. It's a stylish upholstered design with a gathered seat detail, in a range of fabrics and finishes.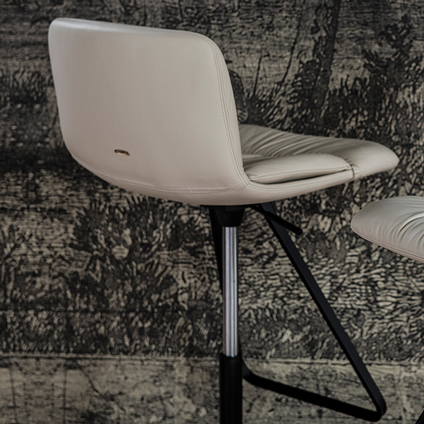 Pictured above: Axel by Cattelan Italia
And for a modern look, Cattelan Italia's Axel easily combines contemporary design with comfort. It features a striking angular footrest, gaslift base, and a welcoming upholstered seat available in synthetic or real leathers.