Extending Your Home Outdoors
Saturday, 22 May 2021
As the sun considers coming out, and with more of us turning to our outdoor spaces to provide us with the social settings we've missed for so long, it's a good time to examine whether your outside areas will provide you with what you'll need throughout the summer season.
From entertaining guests to relaxing on your own, you'll want to bring the comfort of the inside to the outside; and we've the innovations and designs for you to do just that.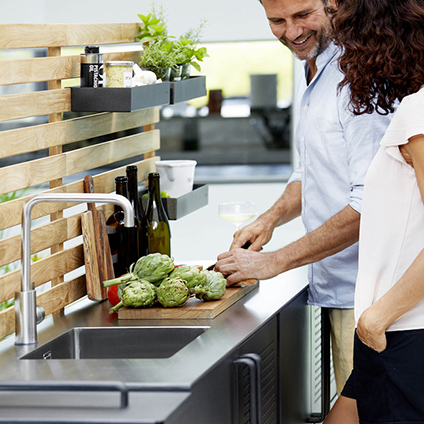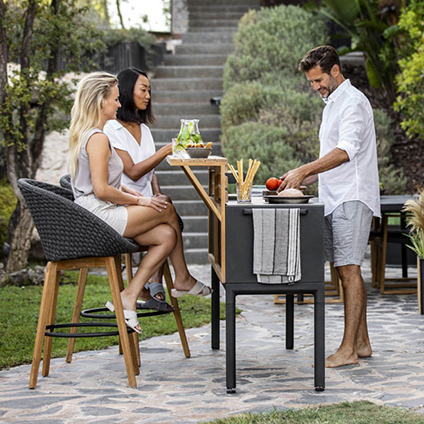 Pictured above: Drop Kitchen and Drop Kitchen Bar Unit by Cane-line
If you're having friends and family over, you may want to take the cooking outside, and the Cane-Line Drop Kitchen and Drop Kitchen Unit give you simple kitchen functionality, along with the style to compliment your outdoor space. These contemporary designs feature cupboards, towel rails, ceramic or stainless steel worktops, an optional sink and removable trash bins, allowing you the freedom to prepare and store what you need.
For a space where you can prepare drinks and chat freely with your guests, the Cane-line Drop Bar Unit is a great solution. Based on a Drop Kitchen, it features a simple teak slatted bar where they can sit and enjoy their drinks. This design really will give you the bar experience in your own garden.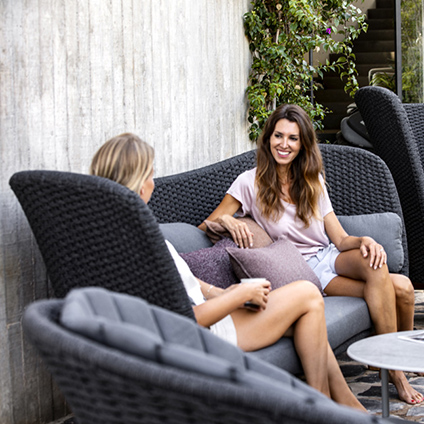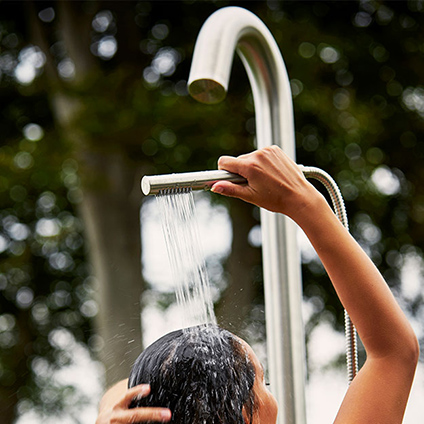 Pictured above: Peacock Wing Highback Sofa and Lagoon Outdoor Shower by Cane-line
For long chats with a friend, the Peacock Wing Highback Sofa is just the right shape — enveloping with its raised curved sides. Or choose a corner sofa; the angles can be used to zone your garden areas. Your seating areas can benefit from inside comforts too, and one of the simplest ways to achieve this is with a rug, allowing you to bring a soft underfoot experience. The Cane-line Defined Round Rug is UV-fading-resistant, adds a pop of colour, and can easily be cleaned with a soft brush or hosed down.
For those close to the sea or a pool, should you find yourself keen to rinse off, the Cane-line Lagoon Outdoor Shower brings you the comfort of an indoor shower — with detachable handheld showerhead, hot and cold functions, and an optional teak footbed — not to mention the experience of enjoying your shower in the freedom of the outdoors.
So whether sunning yourself with a good book, or entertaining guests — review your outdoor spaces and bring the inside out.