Euroluce at Milan: A Lighting Spectacle
Friday, 5 July 2019
The international stage for new lighting trends, Euroluce, runs every two years as part of Milan's annual furniture fair, Salone Del Mobile, so it's not to be missed when it does come about.
This year saw the most innovative solutions meeting high-end design culture, with eco-sustainability and energy-saving a key topic of discussion. The most notable exhibitions came from Italian brands Foscarini and Flos, and Brooklyn-based brand Roll & Hill.
As well as presenting its new Milanese Headquarters, Foscarini took to the stage to unveil MyLight – a highly intelligent system that combines today's technology with Foscarini's well-loved design flair. Activated via Bluetooth on smartphones or tablets, MyLight allows you to control and personalise your lighting to suit your needs and moods.
A simple swipe on your tablet will turn your lamp on and off or adjust the brightness or colour according to your preference. You can even set up timers that work when the tablet is switched off – the possibilities are endless. The Twiggy Floor Lamp is just one of the lights offering this new technology.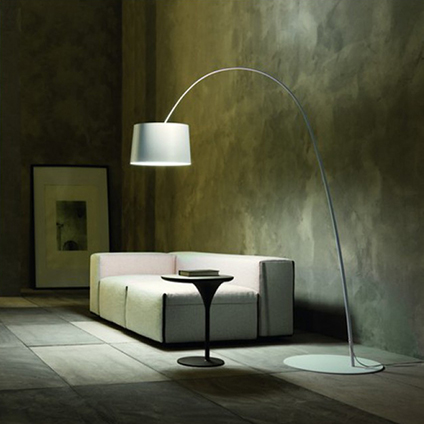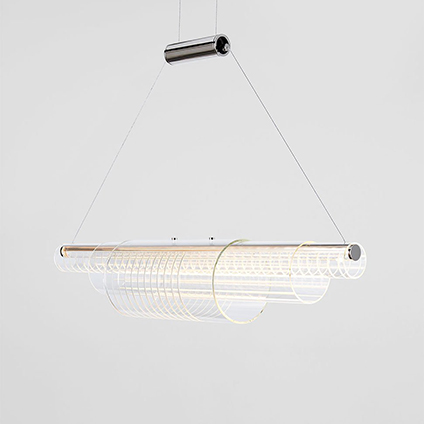 As pictured above from left to right: The Twiggy Floor Lamp by Foscarini and the Coax Lamp by John Hogan for Roll & Hill
New York-based brand Roll & Hill met creative expectations and excelled at the opportunity to showcase its traditional pared-back craftsmanship with a contemporary twist. Highlights from the collection include the Arbor by Karl Zahn and the Coax lamp by John Hogan, which features concentric cylinders made almost entirely from etched glass that appear to float effortlessly alongside one another - a truly showstopping piece.
For 2019, Euroluce not only provided the perfect platform to exhibit a wide array of designer lighting brands, but it once again encouraged discussions to explore the possibilities for eco-sustainable and energy-saving lighting solutions, with the latest LED and OLED technologies and intelligent lighting systems paving the way forward.