Dressing Tables that Define Elegance
Sunday, 31 October 2021
For many of us, getting ready for the day can be a ritual of sorts, and should be enjoyed just as much as the rest of it. The recent rise in self-care and taking time for oneself has given dressing tables a time to shine in the world of interiors, and they've become a focal point of many bedroom spaces. We have carefully curated our top dressing table selections to elevate your getting-ready experience.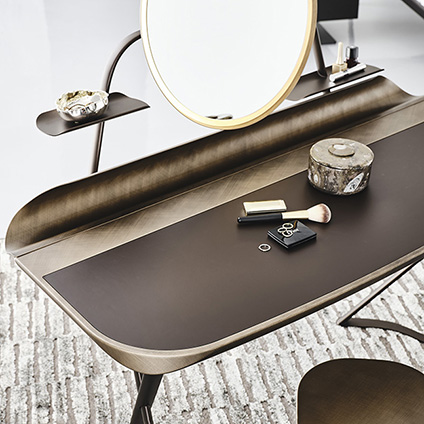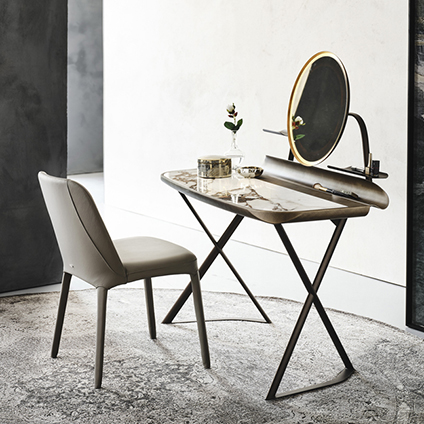 Pictured above: Cocoon and Cocoon Keramik by Cattelan Italia
The Cocoon Dressing Table by Cattelan Italia exudes style and contemporary design featuring a crossed-style hourglass steel base that supports a leather-bound desk top set into a lacquered rounded edge, with a curved storage tray. A round dressing mirror is aligned centrally, complete with two shelves and a mains powered LED light.
For added glamour, take a look at the Cocoon Keramik Dressing Table by Cattelan Italia which is the same design with a luxurious ceramic top instead of leather. Both designs come in a wide range of finishes.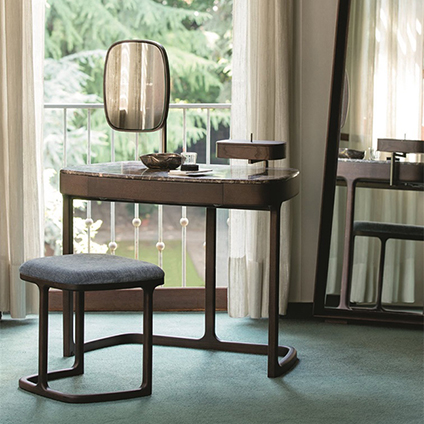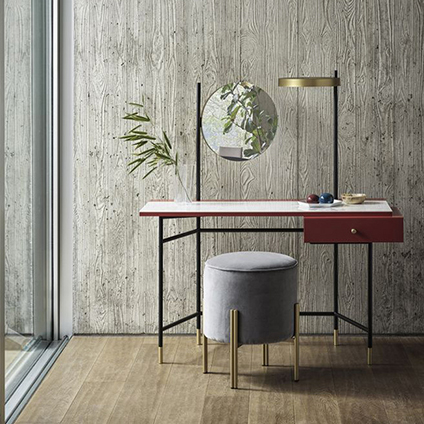 Pictured above: Maskara by Porada and Vanity by Bontempi Casa
For a stylish interpretation on a classic design, the Ninfea Dressing Table by Porada features a kidney shaped solid canaletto walnut top inlay with regenerated hide leather, complete with a small round storage compartment. The slim frame is strengthened with cross bar detailing, and you can add an optional round mirror.
If your space seeks a bold statement piece, then consider the Maskara Dressing Table by Porada which features smooth curved solid ash wood and a striking dark brown or white calacatta marble top. A drawer is housed in the table top and an optional mirror and 'floating' drawer unit complete the dressing space.
Lastly don't overlook desks; with compact designs abound the addition of a mirror can transform a 'workspace' design into a neat dressing table. Try Bontempi Casa's Vanity Ceramic Desk with two optional mirrors or a mirror and lamp, for a light and stylish option.
Explore these designs to elevate your getting ready experience and redefine elegance in your bedroom space.