Creating a Mindful Interior Scheme
Saturday, 21 September 2019
From the KonMari approach to Zen-inspired spaces, more and more people are trying to incorporate mindfulness and spark joy into their everyday life. And 2019 has seen a major surge towards connecting people's lifestyle choices, mental demands and digital engagement with decor schemes.
Botanical prints and nature-inspired schemes have always been popular choices, but 2019 is seeing a shift to slightly more muted mushroom greys hues and softer fern-inspired colours. This results in an old world, naturalist feel that is the epitome of calm, making it the perfect space to escape at the end of the day.
Living Coral – Pantone's colour of the year – is also a prominent choice for home revamps. Described by Pantone as 'an animating and life-affirming coral hue with a golden undertone that energises and enlivens with a softer edge', this spirited colour welcomes optimism and playfulness. If you're reluctant to reach for the paintbrush, think decorative accessories and accents in this shade instead – such as the Apparat duvet range by Yves Delorme from Selfridges & Co.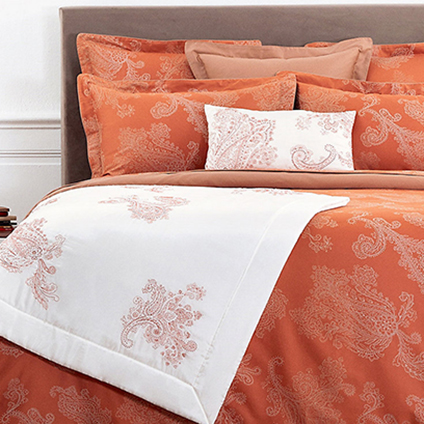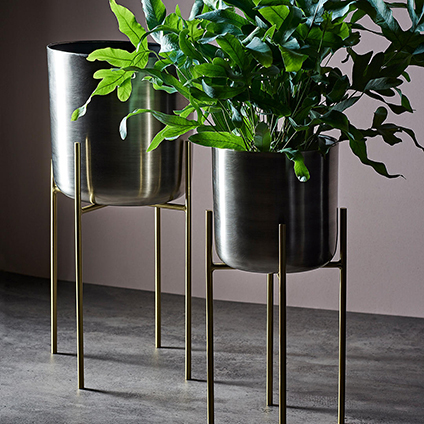 As pictured above from left to right: Apparat Duvet Cover by Yves Delorme from Selfridges in Pantone's Colour of the Year and the Indoor Planter by Design Project from John Lewis
In addition to colour, lighting is also key to your mood and enabling as much natural light into your home can have a huge influence on how you feel. Artificial lighting is important too – use daylight bulbs in kitchens and bathrooms and softer lighting in living and dining areas for the perfect ambience.
Recent studies recording the health benefits of being outside have also resulted in an insurgence in the purchasing of indoor plants. Not only do they appeal to the eye, but they are reported to reduce stress and help with breathing problems. Crocus offers an array of house plants and offers an easy search function so you can pick the perfect plant for your space. Pair with the Indoor Planter by Design Project at John Lewis for a contemporary look.
When creating a mindful interior space, the most important thing to consider is – what makes you feel calm and does it have a purpose. Mindful living is not just about designing on-trend interiors, it's about creating an interior that adjusts to your lifestyle.