Colour, Fun and Functionality
Friday, 12 December 2014
Colour, Fun and Functionality.
Here at Lime Modern Living we are proud to present the Bontempi Casa new 2014 occasional collection. The Collection combines fun and functionality, with great new designs and the introduction of three new in-trend colours- Light Green, Old Rose and Light Blue. In this collection Bontempi Casa brings us innovative and colourful Coffee Tables, stylish Mirrors and beautifully fun Coat Stands.
The contemporary new Bontempi Casa Coffee Table range brings us pieces that combine Wood with Lacquered Metal in an attractive amalgamation of tactile wood and durable steel. The clever Bontempi Casa Basalto Coffee Table has a wooden top with a screw mechanism in a Lacquered Steel base to allow you to adjust the height. The Top is available in Natural or Lacquered Wood and the Base is available in nine different colours. The stunning Esa has a Wooden, three legged frame in Spessert Oak or Elm and a tri-sectioned Lacquered Steel top. The top is available, again in nine different colours, so you can match, compliment or contrast the beautiful wood frame. The charming Tiffany comes with a wooden frame in Spessert Oak or Elm, with handles along each end to allow it to be carried or re-positioned easily. The Top is Lacquered Steel and there is the option of a tray to add even more versatility. Also using a combination of Wood and Lacquered Steel is the Alfred Coffee Table, with Natural or Lacquered Wood top and Lacquered Steel base with incorporated magazine rack. Also available in nine different colours.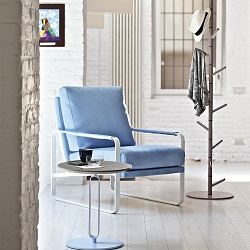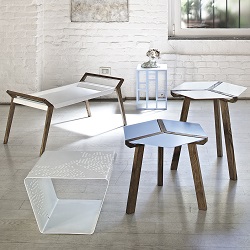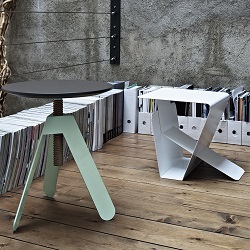 Bontempi Casa have also introduced new Coffee Tables in shaped, Lacquered Steel such as the Pattern, with it's triangular shape and perforated patterning and the vibrant Wizard with it's energetic shape. New Bontempi Casa mirrors introduce the same vivacious style with Lacquered steel, bold shapes and contemporary design. Included in the new range is the Illusion Mirror, a sumptuously large mirror with a stunning fractured effect which reflects light in multiple directions. The back is dark and creates a beautiful contrast to the bright mirror front. Also in the new collection is the Bontempi Casa Alga coat stand, in Lacquered steel. This striking piece has multiple sections which are re-positional, each with a post and comes in a choice of nine colours.
Based in Tunbridge Wells, Lime Modern Living prides itself on a contemporary collection that includes the very best in design and innovation to transform the home into a fresh space infused with creativity.