Circular Coffee Tables
Saturday, 10 October 2020
Round occasional tables are becoming a popular interior trend, running rings around their rectangular counterparts — not surprising when they allow you to break up the linear surroundings of a space, and make for a great focal point.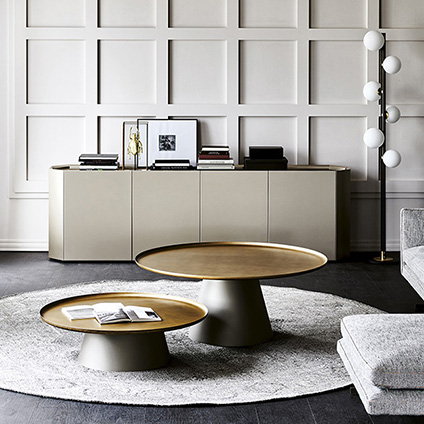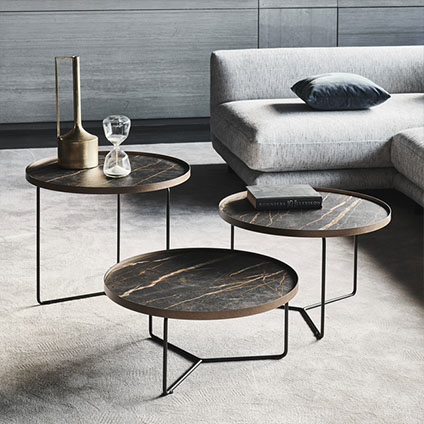 Pictured above: Amerigo and Billy Keramik by Bontempi Casa
Take the Amerigo Coffee Table by Cattelan Italia, its brushed brass lacquered steel tabletop makes it a stylish and elegant selection, and the sculptural cone base gives it that contemporary edge. This would look great as a contrast against leafy greens and clear quartz signature ornaments. The Billy Keramik Coffee Table by Cattelan Italia also lends itself to more contemporary spaces, with its ceramic top finish and a lacquered steel base. The table comes in four sizes or as a trio at various heights which allows you to play with great depths and create new lines in your space.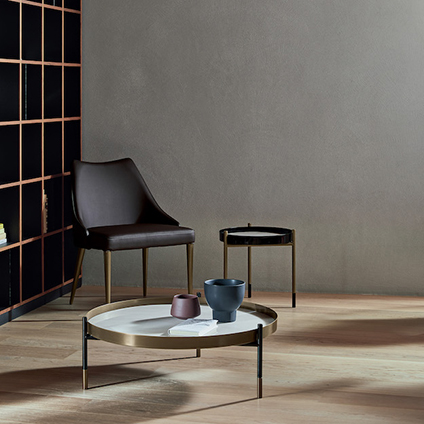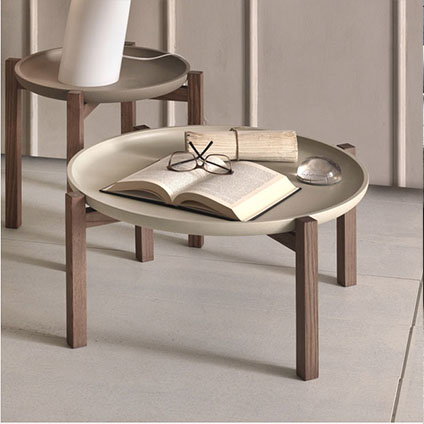 Pictured above: Planet by Bontempi Casa and Gong by Pacini Cappellini
The Planet Side Table or the Planet Coffee Table by Bontempi Casa are both contemporary design choices, featuring a circular tabletop on a tripod frame of cylinder rods made of lacquered metal. The tables both add stylish design to your space, playing with rounded shapes both vertically and horizontally which adds more dimension to the introduction of this trend. If you love creating stark contrasts, then you'll appreciate the Gong Coffee Table by Pacini Cappellini for its rounded 'gong' like tabletop that sits atop a rectangular cross format base. The design blend between strong linear lines in the base, to the rounded tabletop make this an easy addition to any interior, complimenting a variety of spaces.
We encourage you to introduce a circular table into your interior design, you'll find it allows you so much freedom to play with lines and contouring, and gives you a means to introduce new shapes with ease.