Cattelan Italia: Ceramic Revival
Thursday, 28 July 2016
Ceramic is experiencing a revival and we are seeing major brands create statement pieces with this classic material. A great example is the distinct Keramik Collection from Cattelan Italia which features three key Marmi Ceramic finishes.
Distinguished by a pure white foundation and bold dramatic grey veining, the light and airy appeal of Calacatta makes for a staple kitchen finish.
For a modern design with accents of luxury, combine an expansive oval table top with a statement base such as the Gordon or opt for a smaller bistro style table like the Ralph to bring chic European city style into your home.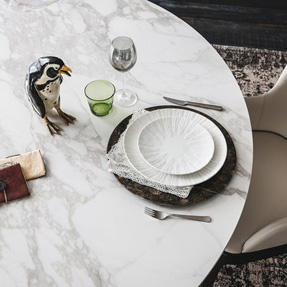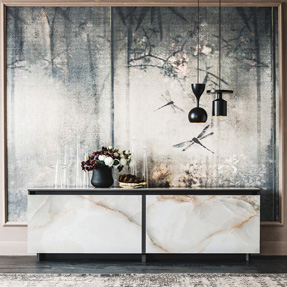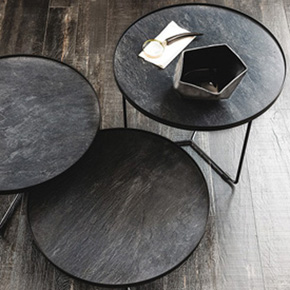 Pictured from left to right: The Gorgon Table in Calacatta, Europa Sideboard in Alabastro and The Billy in Ardesia Marmi Ceramic finishes
The creamier palette of Alabastro embodies an element of warmth. The Europa Keramik Sideboard illustrates how the artisan allure of this material should be showcased for maximum visual impact.
Enhanced by its textured stone effect surface Ardesia possesses a tactile rustic charm. The layered theme associated with the tiered Billy Coffee Table engages with the tangible quality of this finish. Supplemented with textiles, dark wood hues and accessories including poufs or rugs makes this finish the ideal component for traditional country to contemporary trends.