Cattelan Italia: Murano Artistic Glass
Monday, 22 August 2016
Recognising that art can gracefully deviate from the wall, more and more brands are vowing us with creative statement furniture. Captivating with artisan allure the eclectic Vinyl Coffee Table from Cattelan Italia features a mesmerizing handmade Murano Artistic Glass Top.
Murano Glass is made on the Venetian island of Murano. An innovative technique that originated in the early 16th century using Murano vitreous paste whereby minerals, oxides and chemical derivatives are skillfully added to a basic glass composite to generate a unique combination of infinite colours and metallic sheens.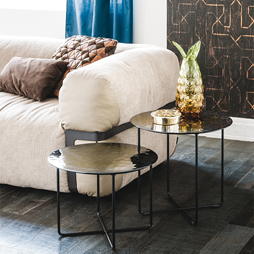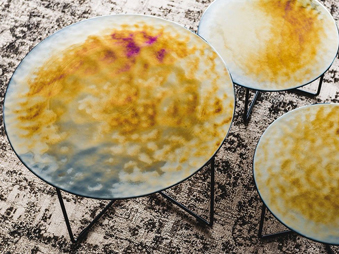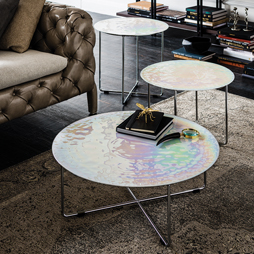 Pictured Above Left to Right: The Cattelan Italia Vinyl Coffee Table in Petrolio and Madraperla finish
Functional and decorative the Vinyl gives reference to its flat disk form and timeless method of production. A collection of three tiered tables, the mesmerizing characteristic of the Murano handmade process emits an impressive display of imperfections, streaks, colour variations and irregularites of shape. Available in two styles the cool Madraperla finish omits pink, green and purple pearl hues whilst the darker Petrolio top resembles the viscous yellow to black petrolium liquid hidden beneath the earths surface.