Beautiful Table Linens
Thursday, 10 December 2020
We can spend a lot of time carefully selecting dining tables that possess the right style and substance to deliver on our interior needs, and so it almost seems odd to cover them up — but there are a few occasions where you may need to. Take Christmas as a great example; the right set of tablecloths and settings can really make the meal feel like something special. Selecting the right cloth and settings for your table can be quite a daunting task, but we're here with a few helpful hints and tips to get you started.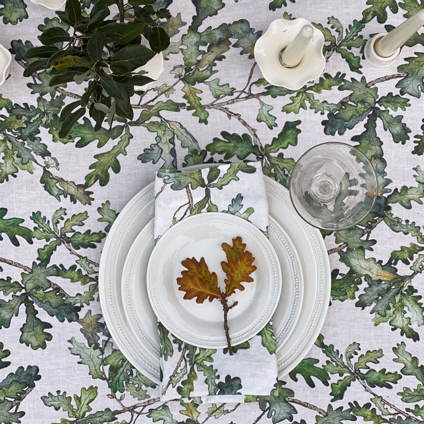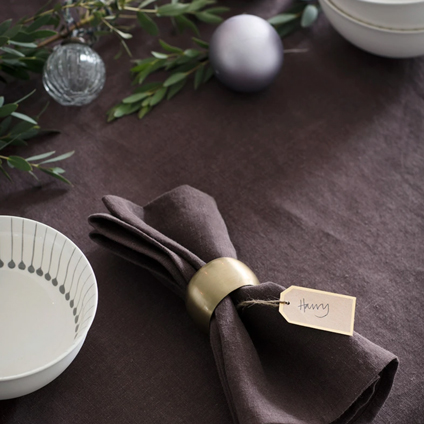 Pictured above: Take a Little Thyme's Oak Leaf Tablecloth and The Linen Works' Mitred Hem Tablecloth
Tablecloths - Consider fabric choice; do you want something thick and durable, or something lighter that you can layer up? Select colours or tones that contrast your current interiors or select a bold statement colour to really make the setting pop. If you are thinking of going for a patterned cloth like this luxurious Oak Leaf Print Tablecloth from Take a Little Thyme, then consider more minimal accessories and dressings, or if you select a minimalist cloth such as the deep bold Aubergine Mitered Hem Tablecloth from The Linen Works then you can opt for bright and bold accessories in glorious golds and sparkling silvers that really pop. Don't be afraid to play with ideas of layering or trims, like the Tablecloth with Contrasted Border from the Linen Shed which gives you two tonal colours to play with and carry through onto your settings.
To care for your tablecloths throughout the year, keep them in a cool, dry, and well ventilated cupboard or drawer, avoiding storing in plastic bags, and try to keep them from direct contact with wood as the fumes and acids from these materials can discolour the fabric. Why not try wrapping them in loose tissue paper and then every few months, getting them out, giving them a wash and an iron before putting them back.
Table Runners - Table runners add great depth and contrast to a setting whilst also providing more protection. If you select contrasting tones then this will give you a central focal point to really highlight the centre pieces.
Napkins - Napkins are a great way of extending out your colour schemes and you can even personalise them for that decadent touch for your guests. You can even have some fun in selecting napkin rings or holders and looking at different ways of folding napkins etc.
Centrepiece - Your guests will want something to draw their gaze, and a lovely centrepiece can make a great talking point and break the ice, really setting the tone for the dinner. We've seen vases with fairy lights, wreaths with candles, or even sculptures, all adding to the overall experience and ambience of the gathering.