Beautiful Storage Solutions for Refills
Thursday, 24 September 2020
With the UK becoming more environmentally conscious, we've seen lots of great refill centres open up, where one can take one's own containers along and fill up on those all important cereals, nuts, pasta and spices. With this growing solution to reducing single use plastics, we feel it's only right to complement your staples with beautiful in-home displays; so we've brought you some stylish tips and ideas.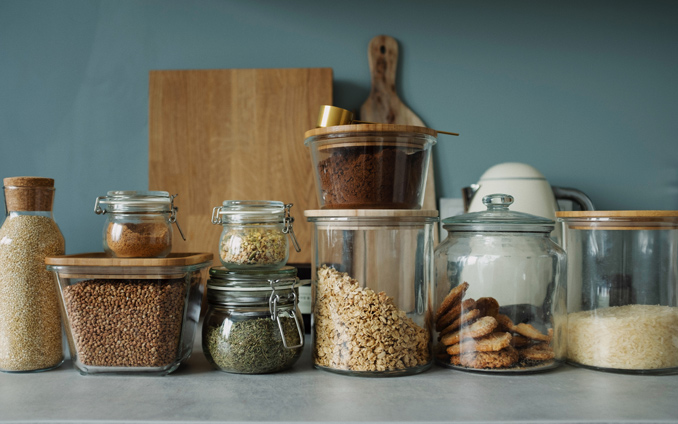 A collection of filled jars
Clip top Kilner jars provide a tight rubber seal that will keep dry food fresh, and they look timeless to boot. Harts of Stur stock a good selection of sizes along with replacement rubber seals, should you need them. Or why not find smaller sized bottles for your favourite herbs and spices and take over your spice rack - just don't forget to label them.
Storing cookies in a large glass jar can make a tempting display - simply lay them in a circle atop one another like bricks until they reach the lid. They may look so good you'll feel guilty eating them, but Wares of Knutsford's Vintage Style Storage Jar will add a touch of art deco style whether full or empty. Apothecary jars like these are a great solution for a variety of foods - place several varying-sized jars together and fill them with oranges, lemons, and limes to add pops of colour into your kitchen.
For a more contemporary look there are a great selection of straight-sided bamboo topped jars around - like these from Eden & Willow, in mix and match sizes. And don't forget to look out for what's almost empty in your fridge - repurposed jars make adequate storage for a range of goods. Often the lids are interchangeable - so a classic chequered lid from a jam jar can add a pleasing finish to a large pickle jar, for instance.
Less aesthetic but super-practical, dispensers with flip top lids are a great idea for larger refills - you can pick up cereal dispensers like these by Oxo Good Grips, available at Lakeland, to make light work of breakfast time while keeping the contents fresh.
The opportunities are endless, so don't let your refills sit in the cupboard - show them off!