Bar Stools with the Wow Factor
Wednesday, 18 September 2019
Breakfast bars or home bars can instantly transform the way you use your space. And one of the most important elements of a bar area is the seating. As well as being sturdy and practical, bar stools need to have the wow factor.
If you're looking to furnish your bar area, there's a wealth of possibilities to suit your style and space. But first, you need to consider how the stool will be used. Is it for a quick cup of coffee, gathering for breakfast, catching up with friends over a glass of wine or finishing off that last-minute homework in the morning?
For added comfort, the Magda Couture Bar Stool by Cattelan Italian features a solid structure with an upholstered seat and backrest. The elegant backrest provides extra support and features delicate stitching detail, which is a subtle contrast to its strong frame.
If space is an issue, opt for a backless design that can easily be stowed away under the worktop when not in use - the Calligaris Ice Bar Stool is the ideal choice. The technopolymer seat replicates a crystal-like design, while its contrasting metal frame has a futuristic appeal. This style is also easy to keep clean, no matter which finish you choose, an ideal design for families with a busy lifestyle.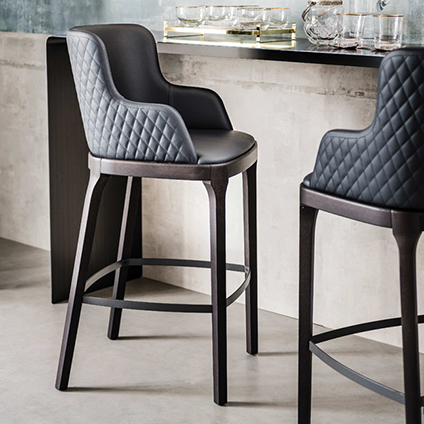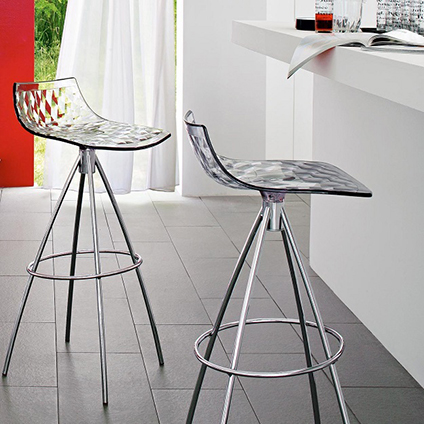 As pictured above from left to right: Magda Couture Bar Stool by Cattelan Italia and Ice Bar Stool by Calligaris, both available at Lime Modern Living
Bontempi Casa's Clara Gaslift Bar Stool is a versatile design with an adjustable height, allowing you to swiftly use it as a dining chair if you're short on chairs when guests come for dinner. It's upholstered seat and backrest can also be selected with a contrasting piping detail for a stylish finish.
Once you've selected the design for you, the only problem you'll have is who's going to do the cooking – with stools this comfy, you'll want to be the one who gets to sit down.