Back To Sleep
Tuesday, 17 October 2017
Classified as less than 7 hours a night, research has recently suggested that western society is 'chronically sleep deprived.' Concerns that sleep deprivation is being overlooked as a public health problem have been highlighted due to it's a powerful link to Alzheimer's, cancer, diabetes, obesity and mental health issues.
Maintaining the recommended 8-9 hours a night can have a profound impact on our happiness and wellness, more so than a significant pay rise according to The National Centre for Social Research. Confirming that money cannot buy a good nights sleep, this does establish the importance of cultivating healthy bedtime routines and environments.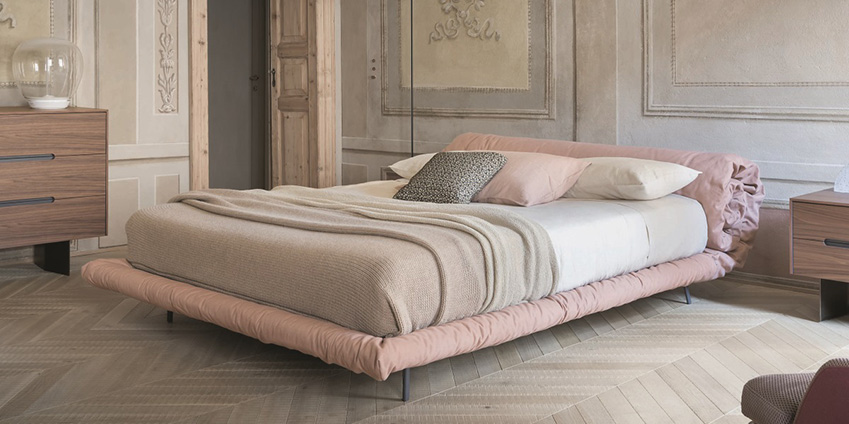 As Pictured Above: The Bonaldo Blanket Bed
Promoting warmth, softness and a sense of protection, the Blanket Bed from Bonaldo aesthetically translates the cognitive association we should all have with our bed and its surroundings. When investing in a new bed, the required size, height, and mattress firmness can dramatically differ from person to person so be sure to carefully reassess both your physical and spatial needs.
Ergonomics suggest couples sleep better in a bigger bed, larger than a standard double size decreases the risk of disturbing each other's sleep. A high bed will sit comfortably in larger rooms with higher ceilings, otherwise, consider a low variation to create a minimalist feel that is both relaxed and grounded.
Cushions and bedding are a key addition to enhance your comfort but do not miss the opportunity to get creative with these. Incorporating soft textures and calming hues can only help furthermore to create the optimal sleeping space for health and happiness.