Back To School
Monday, 5 September 2016
The Summer holidays have drawn to a close, with the chaos of edging children back into school this is the ideal time for parents to restore structure and routine into the home.
An organised space can be key to maintaining concentration, whilst its often a struggle to coax children away from the distractions of technology and into homework schedules there are copious ways to create an alluring workspace with the potential for maximum productivity.
Primary colours are exciting and enticing with the natural capacity to evoke a creative mindset. The Bonaldo Summer Sideboard in Saffron Yellow will inject a playful twist into the home, ample interior shelving and a spacious front that folds down to transform into desktop workspace make it the ideal compromise where living space is limited. Embrace the opportunity to enliven muted colour schemes such as blacks, grey and neutrals by coordinating with matching hues and accessories to add pops of colour.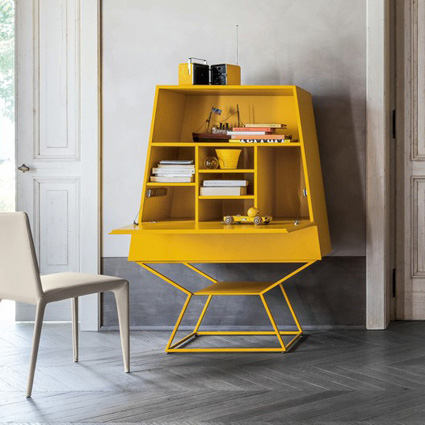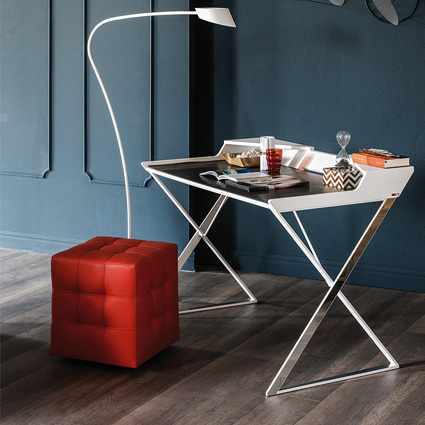 Pictured above from left to right: Bonaldo Summer Sideboard, Cattelan Italia Qwerty Desk, Little Flag Floor Lamp and Bob Seating Pouf
Should you be fortunate to have a designated office space the Cattelan Italia Qwerty offers a minimalist and modern desk option. A slimline structure composed of a crossed leg frame with a striking stainless steel profile to support a spacious leather work top. The utilitarian and practical quality of the Matt White finish and coordinating Little Flag Floor Lamp paired with a darker interior palette creates a perfectly relaxed and studious workspace. Switching uniform chairs for a vibrant yet cosy alternative such as the Bob Seating Pouf adds a little extra style.