Are you sitting stylishly?
Wednesday, 12 November 2014
Are you sitting stylishly?
Chairs, they are the most tactile pieces of furniture in a dining space and Porada have turned chair design into an art. Synonymous with creating stunning pieces from wood, Porada combine sculpted curves and opulent finishes to make dining both look and feel great.
Porada chairs at Lime Modern Living have a range of styles from chic classics to contemporary retro. The Porada Nissa Chair has a timeless elegance with a classic upholstered back and seat on a beautiful rounded wooden frame. With a wide range of fabrics and leathers to choose from and a Canaletto walnut frame available in a choice of finishes the Nissa is available as a traditional dining chair or as a carver. The Astrid chair is a stunning contemporary twist on a classic, with a fully upholstered back and seat on wooden legs. This curvaceous chair features a seam detail at the back creating length and has complimenting slim legs in Ash or Canaletto walnut finishes. The sumptuously upholstered seat and back are available in a wide range of fabrics and leathers.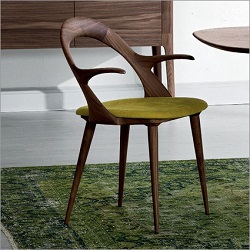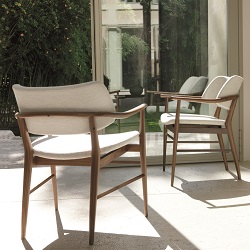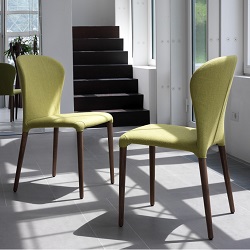 The sleek Anxie is a contemporary chair with an almost fluid feel, with sweeping curved legs in beautifully crafted Canaletto walnut or Cherry. The striking upholstered seat curves over the legs and then upwards reflecting their fluidity. The Porada Ester Chair has a great retro feel with a stunningly crafted circular back and slim round legs in Canaletto walnut or Ash. The chair has an organic quality to the shape and feel and is available in a traditional chair or with arms. As dining chairs can often outnumber other furniture in the dining area, they can change the look and feel of the room and be an effective medium for bringing a contemporary look into a traditional space.
Based in Tunbridge Wells, Lime Modern Living prides itself on a contemporary collection that includes the very best in design and innovation to transform the home into a fresh space infused with creativity.