Accessorise Your Coat - Our Top 5 Coat Stands
Sunday, 9 February 2020
Coat stands and coat racks are making a comeback, but with new contemporary twists. Display your belongings with style on one of these playful, functional designs.
The Skyline Coat Hook by Calligaris features four offset lacquered metal sections in warm hues or in white, each curving out at the top to form a generous hook. At the bottom, two sections have circular cut-outs handy for hanging sunglasses, scarves and small items. This is perfect for rooms with little floor or wall space - or place inside a cupboard for hidden storage.
The Copenhagen City Rack is a multifunctional space-saving solution from the Copenhagen collection. A sleek powder coated aluminium shelf is suspended above a four-hook coat rack and teak wood hanging rail. Available in dark lava grey or in white, it's perfect for homes with a Scandinavian aesthetic or minimalist approach. This piece can be used both indoors and out and with plenty of room to hang odd items, is perfect for families.

Pictured above from left to right: Calligaris' Skyline, Cane-line's Copenhagen City Rack, and Cattelan Italia's Air.
The Cattelan Italia Air Coat Hanger is a new take on a traditional coat hanger, in a deconstructed hanging design. A central steel cable features five shaped hanger details, and a long weighted base. This piece is available is various finishes and with an additional 3 metre steel cable for homes with higher ceilings.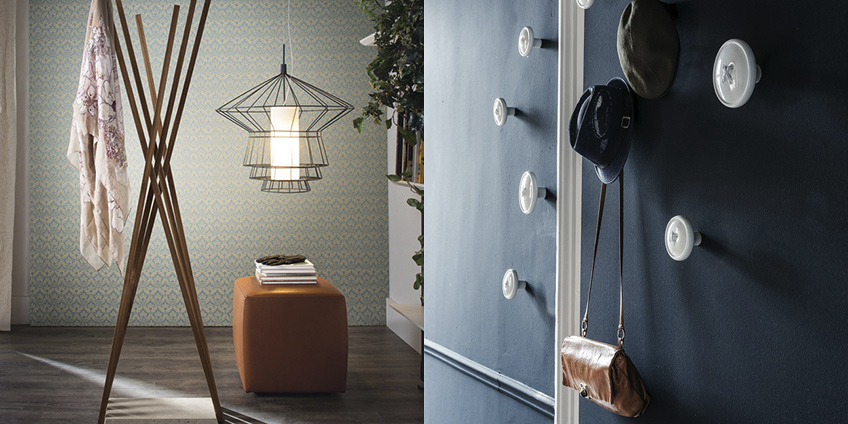 Pictured above from left to right: Cattelan Italia's Oscar and Bottone.
The Cattelan Italia Oscar Coat Stand is an elegant stand with a stylish design reminiscent of a teepee-inspired structure, making it the perfect place for hanging coats, bags or scarves. It features six interlocking sticks in canaletto walnut or burned oak with a solid travertine marble base for added support. Great for hallways with floor space that need an accent piece.
And the Cattelan Italia Bottone Coat Hook is a sleek circular design in Pearl White featuring a detailed cross pattern in the centre, to look like oversized buttons on the wall. Available in two sizes, individually or as a set. Perfect for quirky homes with plenty of wall space and lots of things to hang.