A Floral Flourish - Floral Trends for Spring
Sunday, 7 April 2019
It's the season to spruce up your interiors and let nature come inside with floral abundance. And where better to get inspiration than from Designers Guild. This year, they have myriads of beautiful designs to suit all tastes. So, whether you are looking for feminine flowers for a bedroom or sophisticated blooms for a sitting room, they have it all.
And according to Bloom & Wild, the flower arranging trends for 2019 are better than ever, from foliage to grasses, and dried to dyed, and with coral being the in colour, the bouquet has never looked so good.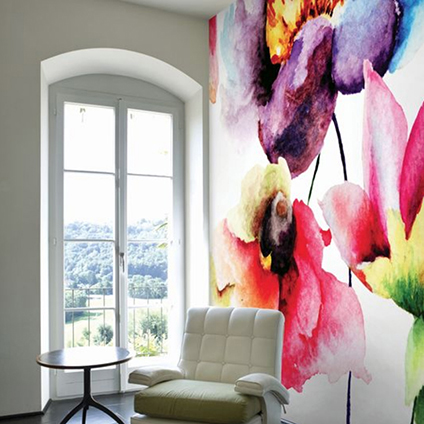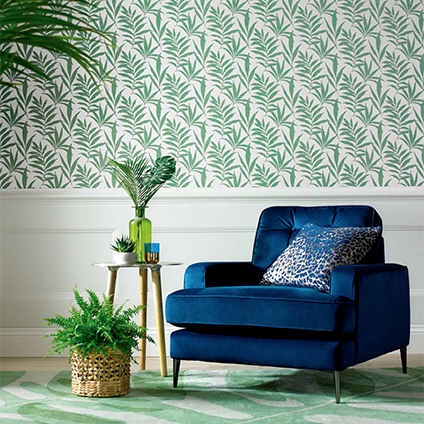 As pictured above from left to right: Watercolour Flora Wall Mural by Graham & Brown and Palm Printed Wallpaper
Popular in the Nineties, the Asian look has had a revamp. From metallic finishes to intricate details, there's something to be said about the beauty of Chinoiserie flora and fauna enhancing a room. Graham & Brown has a stunning range of wallpapers with a fanciful, romantic modern take on a classic style.
And if you really want to bring the outdoors in, take a look at its versatile collection of murals. If it's magical garden inspiration you're after, then Osborne and Little's Enchanted Gardens covers it all. Immerse yourself in the Rainforest or meander through the Japanese Garden. Fly with butterflies in the Butterfly Garden, exclusively designed by the Icelandic Designer Kristjana S Williams.
Remember the palm tree fronds of the Seventies? Well, they've made a comeback too, but this time, there are more textures and Palm printed wallpaper is available in all manner of designs – whether you are looking for something monochrome, bright or calming.
Flocked wallpaper is also making a comeback, with new modern designs updated for today. Keeping the traditional feel of flocking, the new designs keep it fresh and modern while embracing the traditional, luxurious elements of flocked prints. This style of wallpaper is often intricately detailed, with a great depth of colour, making it well-suited for wallpaper designs.
Or how about trying unique botanicals prints. Not just traditional floral wallpaper with a repeated pattern, this is more of an homage to the beauty found in nature – think a beautiful meadow, rather than a bouquet of flowers. From a small bathroom to a grand bedroom, bold, oversized floral blooms will make any room appear larger, more pulled-together and unique.
Punchy greens and yellows are key trends for 2019, as are bold blues and pinks. So, it's time to get decorating and the sky's the limit. As Henri Matisse said, "There are always flowers for those who want to see them."