Set The Table
Monday, 18 December 2017
If you're hosting Christmas this year, all eyes will be on your dining table. With less than a week to go, here are some simple and effective ways to impress guests and present delicious food in style.
Impose a festive feel by pairing an on-trend colour scheme such as black with gold or brass. Durable ceramic or marble table top finishes can be showcased by opting for a table runner. The Chilewich Lattice from Selfridges features an eye-catching shimmering vinyl design that is easy to clean and offers enough protection so that extra hot dishes can be placed in the middle of for everyone to enjoy.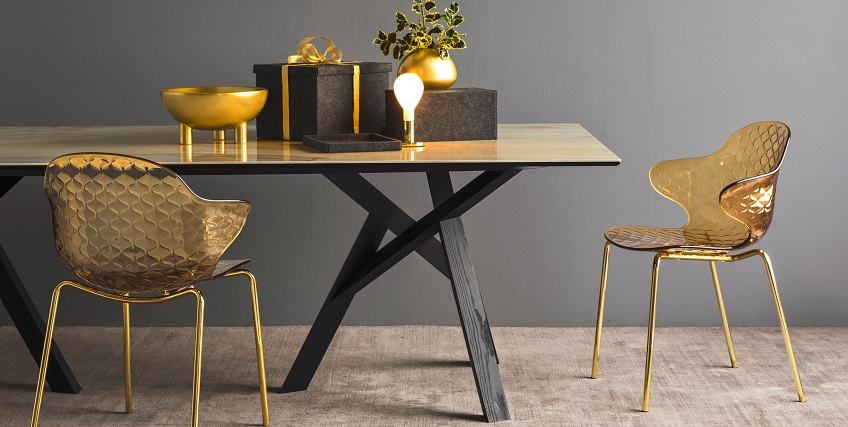 As Picture Above: The Calligaris Jungle Table and St Tropez Chair from Lime
Get creative by layering and contrasting textures. We love the gold Chilewish Dahlia Placemat, this moulded design is available in various sizes and metallic shades making it perfect for embellishing individual seats and a quirky alternative to traditional charger plates.
Personalised seating will make guests feel extra special. Selfridges Bauble Place Card Holders include luxury cards and are a frivolous addition to any seasonal dining arrangement. Enjoy alongside other fun, engaging traditions such as Liberties novel Meri Meri Christmas Crackers.
Finally, finish your tablescape with seasonal foliage. Traditional table wreaths from The Real Flower Company are enriched with a concoction of invigorating festive scents such as rosemary and lavender. Complement the central candle with surrounding smaller tea lights for a subtly relaxed and enchanted Christmas feel.