Let's Dine
Saturday, 7 November 2015
Our top five 3 metre tables for Christmas 2015...
Squeezing everyone in can now be a distant memory with these great ten-twelve seater tables. Here is a selection of our top five 3 metre tables which will leave a smile on everyone's faces this Christmas.
Calligaris Park. This designer Italian table combines the best of contemporary design and functionality, the perfect addition for anyone looking for a stylish yet durable addition to their dining space this season. Featuring a stunning mechanism, the Park is now also available in a Natural wood finish.
Never be caught short of dining space again with the Millennium by Bontempi Casa with its solid walnut top and metal base you will have plenty of room for any guests planned or not! We are pleased to announce the Millenium will be displayed in our showroom from mid November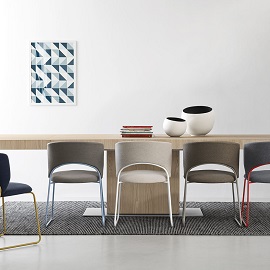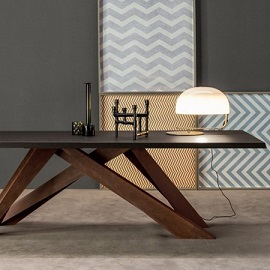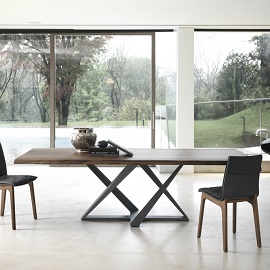 Park Big Table Millenium
Add a striking centre piece to your dining space with the Bonaldo Big, with its impressive feature base and solid, ceramic or glass top the big table certainly lives up to its name. The Big Table's unusual design gives it a strong personality that will create a dynamic atmosphere within any dining space, making it the only table your family will want to sit around this Christmas!
Alternatively, add a touch of elegance to your dining space this Christmas with the Ikon table from Cattelan Italia. The Ikon offers unparalleled style and quality with the elegant design blending a solid wooden surface with irregular edges and clear glass legs that make for a striking design. The luxurious styling of the Ikon defines the Cattelan Italia brand, offering modern Italian design elements within your home without compromising on quality.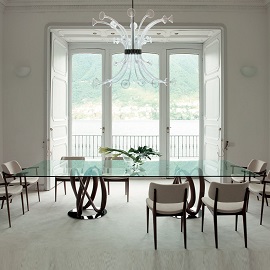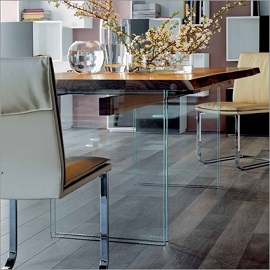 Infinity Ikon
Finally, the Porada Infinity will make Christmas last forever! This eye-catching, timeless piece will be attracting everyone to the table this Christmas.. With a round, oval, or rounded rectangular table top; in a matching solid wood will create a substantial dining centrepiece. Similarly, the clear tempered glass table top showcases the infinity's unique sculpture-like base. With its intricate design and handcrafted walnut base the Infinity table is a brilliant focal point for any room and will bring timeless Italian design into your home.