The Heritage of Porada - Porada Pride
Sunday, 10 February 2019
"Wood is universally beautiful to man. It is the most humanly intimate of all materials." Frank Lloyd Wright
Porada is the epitome of contemporary wooden furniture and last year it celebrated its 70th Anniversary. Its trademark is that "our products do all the talking" – solid wood accessories that over time have found new expressions and new combinations, with different materials, new functional purposes, coupled with upholstered elements giving them a distinguished look with meticulous craftsmanship.
The Porada story began in the Brianza district of Italy in 1948, with a talented furniture maker – Luigi Allievi, and a piece of wood. With this, he made a beautiful, handcrafted chair from his small artisan workshop. Luigi continued to make chairs until he had an established chair-making business. And in 1968, helped by his four sons, he expanded the production of chairs into other branches of home furnishings and thus the company Porada was born. Combining technological processes with the artisan tradition of the area, working with architects Alberio & Cerbaro, then with Martino Perego.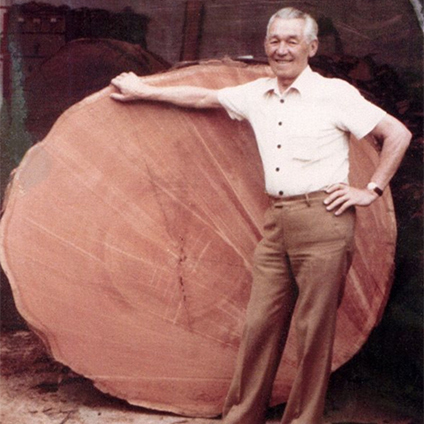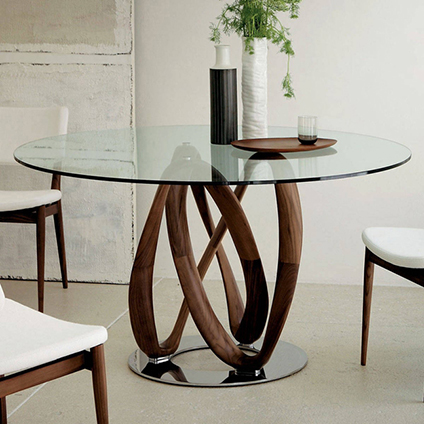 As pictured above: Porada began in 1948 with talented furniture maker Luigi Allievi taking the reins and The Infinity Table is a prime example of Porada's talented craftsmanship with wood
Porada's collection is wide and varied, made up of a multitude of occasional furniture developed in cooperation with designers such as Tarcisio Colzani, Patrick Joiun, Carlo Ballabio, Marconato e Zappa, Opera Design, Studio Buratti, David Dolcini, Stefano Bigi, Gino Carollo and Emmanuel Gallina, among others.
The main strength of Porada has nothing to do with the quality of the materials or cutting-edge machinery. It's the human factor. They're people who for years have become part of the Porada family, who treat products as they would do with something of their own, putting all their care and passion into their daily work.
As well as showrooms in Cabiette and London, in 2018, Porada opened its new showroom in Milan. With two sections: one showing hotel rooms, halls, dining and breakfast areas. And the other 'house' section: showing the 'cult' pieces from past collections.
To celebrate this important anniversary, Porada developed a room fragrance with packaging incorporating lines and colours that fully reflect the company's philosophy. It is a perfume designed by perfumery experts Paolo Fadelli and Arturetto Landi, specifically to make the Porada style differently perceived – discreet, but always current and enveloping.
So, what makes Porada so special?
Is it the Garbo chair with its characteristic classic armrest, or the sinuous and feminine Anxie with its unmistakable contoured and tapered legs? Could it be the Ubiqua bookcase system and TV stand with metal uprights – a cornerstone of current Porada style, but linked to the Fifties vintage style. Perhaps it's the Infinity table, so elegant, with its crystal top and sculptural wooden base?
The answer is simple – it is all of these and more, as "Everything's born from the love of the wood." Long may it continue.