Sustainable Ceramic
Sunday, 13 January 2019
Seeking character and one-of-kind designs, artisan-inspired products became increasingly popular last year. In 2019, this shift is set to continue with a strong focus on sustainability, presenting an era of furniture that brings both purpose and practicality.
Moving forward, the second-hand aesthetic that sustainable design conjures is set to take a back seat in favour of modern clean lines and slick materials. For the environmentally conscious, Calligaris present a pivotal selection of eco-friendly ceramic tables, with responsibly recyclable options that are chic and maintainable.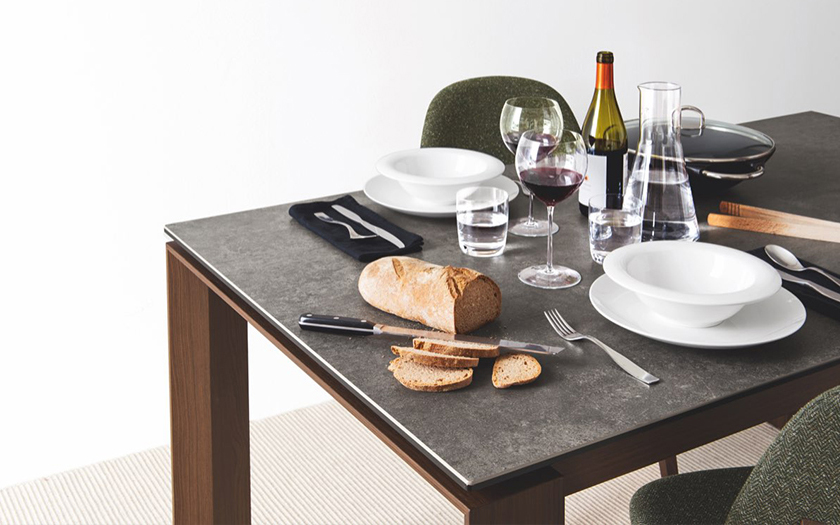 As pictured above: The Calligaris Omnia table at Lime
Offering remarkable strength and durability, both the Eminence and Omnia feature a tough ceramic table top that is exceptionally resistant to scratches, stains, impact, temperature and chemical products. Crafted from a 2mm thick porcelain tile merged onto 8mm of tempered float glass, opt for this quintessential ceramic design for a suitable all-round everyday table at home.
Easy to clean and hygienic, ceramic is a safer option for grazing. From on-trend decorative food displays to mucky toddlers, this finish does not absorb or emit harmful substances, making it suitable for contact with food, with the added benefit of thermal resistance that will withstand shock from hot pans and plates.
An essentially earthy style statement with longevity, consider your space and coordinate this artisan material in a range of finishes including white, dark grey, hazelnut, cement or sophisticated marble for an instantly grounding table with added elegance.