Spring Cleaning
Saturday, 18 April 2020
Spring is now well and truly here, which can only mean it's time to throw open the windows and tackle some spring cleaning. Once a traditional task that started as a way to clean away the mess of winter when houses were heated by fires, leading to the build up of dust and soot, spring cleaning is no longer a necessity - but studies have shown that a clean home makes people happier and healthier.
Where to begin?
Start by making a checklist of everything that needs to be done and update your cleaning cupboard with all the essentials. There's no point starting the job at hand if you don't have the equipment necessary to complete it. Next it's time for a thorough de-clutter. Tackle those kitchen cupboards that are struggling to close and organise the overflowing wardrobes full of winter attire - if you're struggling to discard things that you don't really need, think of Marie Kondo's approach as to whether those items 'spark joy'. As you go through your belongings, have a few boxes to hand labelled: 'to sell', 'to donate' and 'to throw'.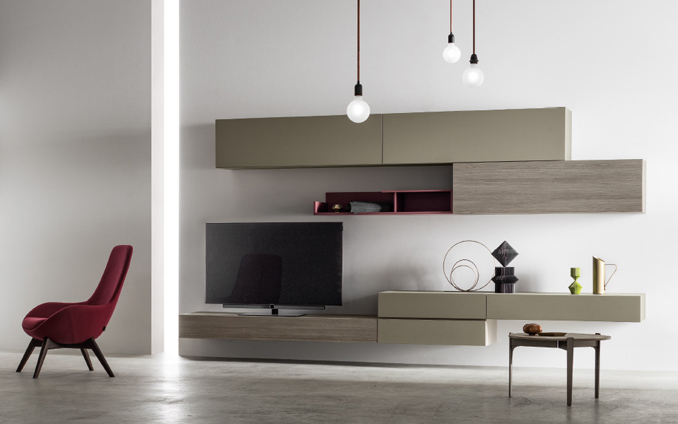 Pictured above: The Creativ Wall System 007 at Lime Modern Living offers stylish storage for a de-cluttered appeal
To make sure you stay perfectly organised once all the clutter is gone, invest in a modular wall unit or wall system that caters to your every need. Lime's exclusive range features a contemporary collection of streamlined designs that combine functionality with style.
Once you've cleared everything out, it's time to don the rubber gloves. Approach your home by cleaning from room to room and always make sure you clean from top to bottom to catch any falling dust - focusing particularly on the areas that have been neglected all winter long. Spring cleaning is the perfect opportunity to address any skirting boards or coving that you most likely overlook on a daily basis. And don't forget to wash the windows inside and out to encourage the sunshine in as much as possible. But be sure to tackle the windows on a cloudy day - if it's too sunny, the cleaning solution will dry too fast leaving streaks.
It's the little things that matter
More often than not, we don't have a chance to take on the smaller jobs, such as cleaning inside the microwave or the oven, de-scaling the kettle or dusting down light fittings. This is the perfect time to make sure you tackle every appliance and fitting for a really deep clean. It's worth freshening up your furniture too, from leather upholstery on dining chairs to deep-pile rugs and carpets. Curtains can benefit from a thorough clean using the upholstery attachment on a vacuum.
Head outside
Finally, for the ultimate finish, consider also freshening up the exterior of your home. Take care of the windows and entrance door by wiping them down and touching up any paint chips. Clean and repair the gutters, power wash the patio and wipe down any garden furniture that may be looking a bit unloved after being outside all winter. Invest in some oversized pots and fill them with bright spring bulbs, or install stylish lighting for a warm welcome when you arrive home.