Sleep In Style
Tuesday, 26 December 2017
Our sleeping patterns strongly affect our overall health and happiness, signalling the bedroom as the foundation of our wellbeing. With the focus placed on areas in the home that are frequently exposed to guests, the one room most worthy of our attention can often be left neglected.
Plenty of items in the bedroom can generate clutter. It is suggested this can psychologically overwhelm the senses and cause anxiety. To encourage a restful night, a functional storage system is essential for optimal organisation. Consider a stylish collection of drawers and nightstands that will create space for the perfect sleep.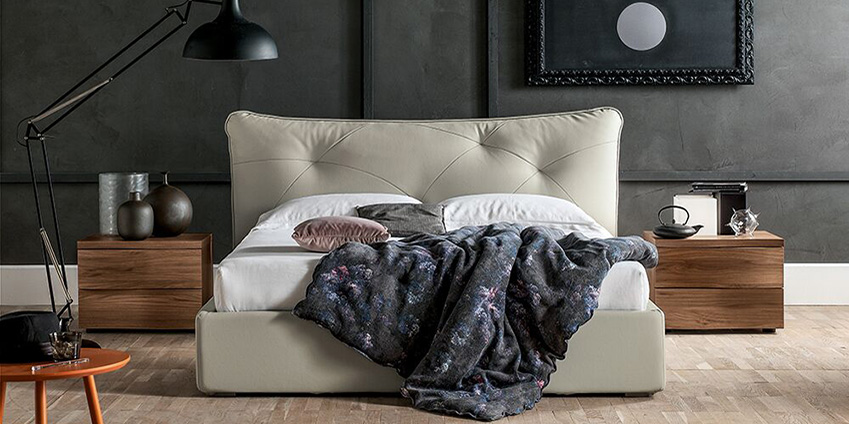 As Picture Above: The Syam Bed and Wave Mix Bedside Table From Lime
Embracing minimalist lines to form a refined and contemporary feel, the Linear Collection from Lime can be customised in a range of neutral finishes to reflect your restorative needs. A swift push-pull opening mechanism serves as an everyday convenience, with chests and bedside tables that present unique open storage compartments, perfect for displaying your decorative items or any current reads you can enjoy before you drift off.
Meandering silhouettes create a sensually soothing accent. For a sculptural presence, alternate the Wave Mix Collections rippling front panels in opposing directions with two tall chests that merge visually.
Be mindful that your bed is the one piece of furniture you have the most intimate connection with. Should it be a comforting upholstered headboard such as the Syam Bed or a grounding solid wood frame, choose a design that supports and renews your energy and your waking life will reap the rewards.