Set The Mood With Metallics
Thursday, 22 August 2019
From copper industrial wall lights and pewter plant pots to entire rooms painted in luminous tones, the metallics trend is becoming more popular in all sorts of settings. As well as being a prominent feature in ultra-glam schemes, metallics add a visually appealing element to all zones, bringing warmth and light into a space.
If you're a bit uncertain about how to embrace this ever-growing trend, start with accent pieces and metallic accessories that will punctuate a space, rather than taking over. Cattelan Italia's Apollo Cluster Suspenion Light in copper or bronze would encourage light to bounce around the room, creating a warm and welcoming environment. Or opt for a brass hairpin side table or bar trolley for that Gatsby-esque ambience.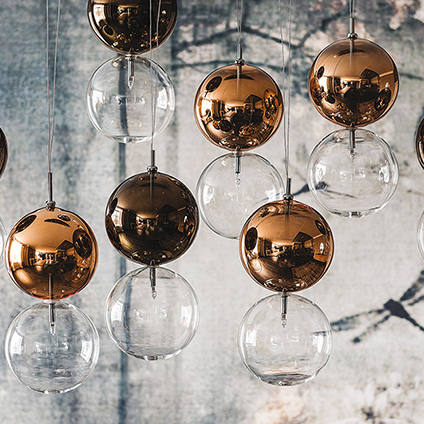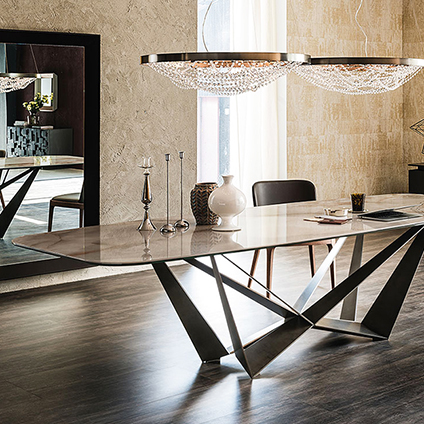 As pictured above from left to right: The Cattelan Italia Apollo Suspension Light and Skorpio Keramik Table
Chrome furnishings add a level of shine no other metallic can give and can be found on designs dating back to the Twenties. This high-shine finish exudes a sense of luxury that is suitable for all decor schemes. The Led Gaslift Bar Stool by Connubia Calligaris is the perfect solution for adding chrome details.
A moody kitchen with navy or dark grey tones would benefit from brass details – from lights and taps to door handles, giving the cool hues a welcoming splash of warmth. Alternatively, metallic ceilings bring an unexpected dose of glamour to a design scheme. The reflective finish creates an elegant sheen throughout the entire room.
Gone are the days of declaring yourself a gold or silver person. Interior designers have proved that a clever cocktail of metallics can be just as stylish. Silver grey sofas could be accentuated with a golden-framed console or side table for a contrasting scheme. But do bear in mind to keep the palette sophisticated with a mix of only two or three finishes – too much of a combination will confuse the entire look.
Ethereal and mesmerising, the metallic trend is certainly having its moment and it is certainly not one to shy away from.